Ready to paint your front door? Whatever style and color you choose, Benjamin Moore is here to help guide you to a perfect hue you'll love for years to come.
A new front door color is the perfect way to extend a gracious welcome to family and friends. Perk up your home's façade with any of our 3,500+ colors and give your front entrance the refresh it deserves.
The Complete Look
When choosing a color for your front door, ensure cohesion by taking the entire palette of your exterior into consideration. Your front door should act as the perfect accent to your home, including siding, landscaping, and décor.
If you're looking for a classic front door color, we love Heritage Red HC-181, as seen above, Hawthorne Yellow HC-4, Kendall Charcoal HC-166, and shown here, Wolf Gray 2127-40.
If you lean neutral on your exterior, but are looking to garner attention for your door, try a saturated and playful hue like Hot Lips 2077-30, Green Meadows 2040-20, or Sweet Pear 389.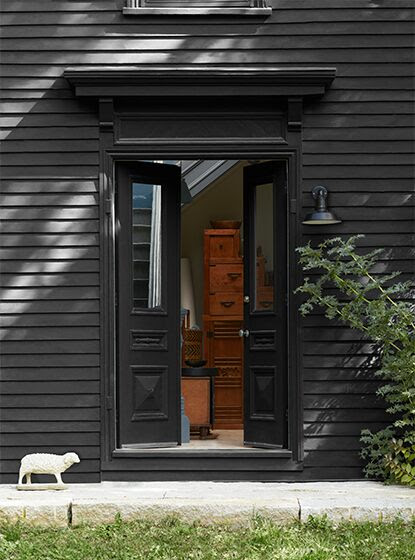 There's no doubt that a black front door makes a statement. If you have black siding on your home, consider painting your front door the same color for a sleek, monochromatic look. You can even opt for a dark gray or charcoal, if you'd prefer something lighter than black. For a more traditional look, opt for a classic black painted door with a lighter neutral exterior. This creates a sophisticated contrast with a bold entrance.
Black paint colors we love for doors include: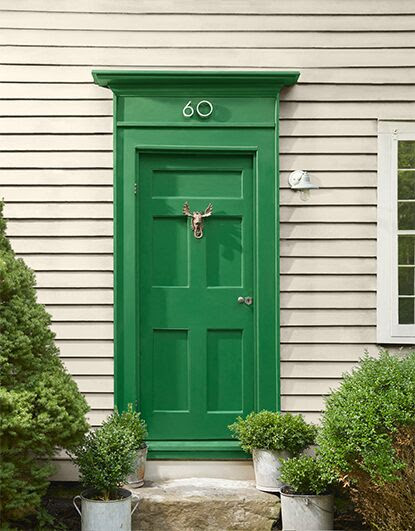 Even if your home exterior trends neutral, showcase your personality with a pop of bright color on your front door. Use a rich, saturated paint color that complements your home's architecture and highlights your landscaping.
You can use any color to brighten up your front entrance, but we especially love yellow and green front door colors to really amp up the friendly welcome. Here, bright and welcoming Cactus Green 2035-20 pops against Edgecomb Gray HC-173 siding, while bold house numbers and gold accents add a whimsical touch.
Harmonious Colors for a Front Door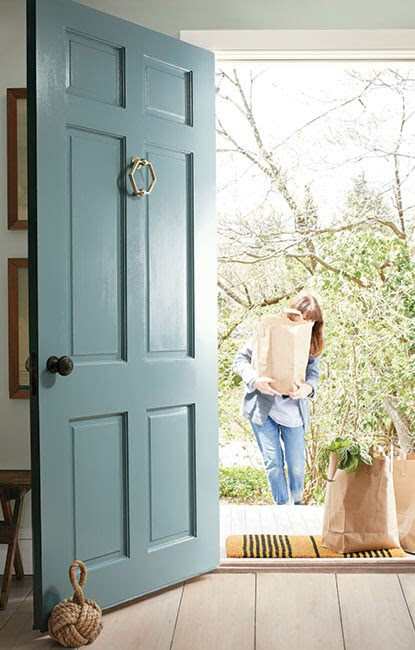 When thinking about painting your front door, take color cues from the paint colors inside your home. What paint colors does your front door open into? Take inspiration from your interior for your front door, as seen here with Aegean Teal 2136-40, the Color of the Year 2021, on the front door as a lovely extension of the soft blue-green Gray Cashmere 2138-60.
Are your interiors painted neutral or white? Make the case for a white front door. With its unrivaled versatility, white paint is transcendent and timeless, and will provide a blank canvas for seasonal décor, accents, and more.
Give your door a clean, crisp look with these white paint colors:
Neutral Paint Colors for Doors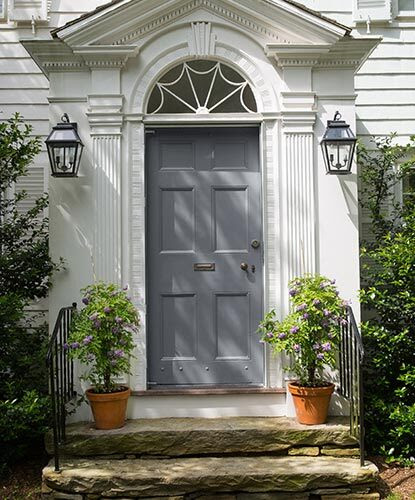 If your home's siding is already a bold color, look to more neutral options for the front door.
Love the idea of a bold color on your front door, but not quite ready to commit? Try out a deep neutral paint color with a prominent undertone. Here, two saturated neutrals come together to create a cool, inviting look. Horizon OC-53 siding helps to anchor other exterior hues, while Sea Life 2118-40 on the door adds character.
When it comes to choosing paint for your front door, you need an exterior paint that provides beautiful color and offers excellent protection, no matter the weather. Element Guard® protects against wind-driven rain, excessive humidity and other harsh conditions. Available in all of Benjamin Moore's 3,500+ hues, it resists cracking and peeling, and retains its color for long-lasting beauty.
Shop Local with Benjamin Moore Paint!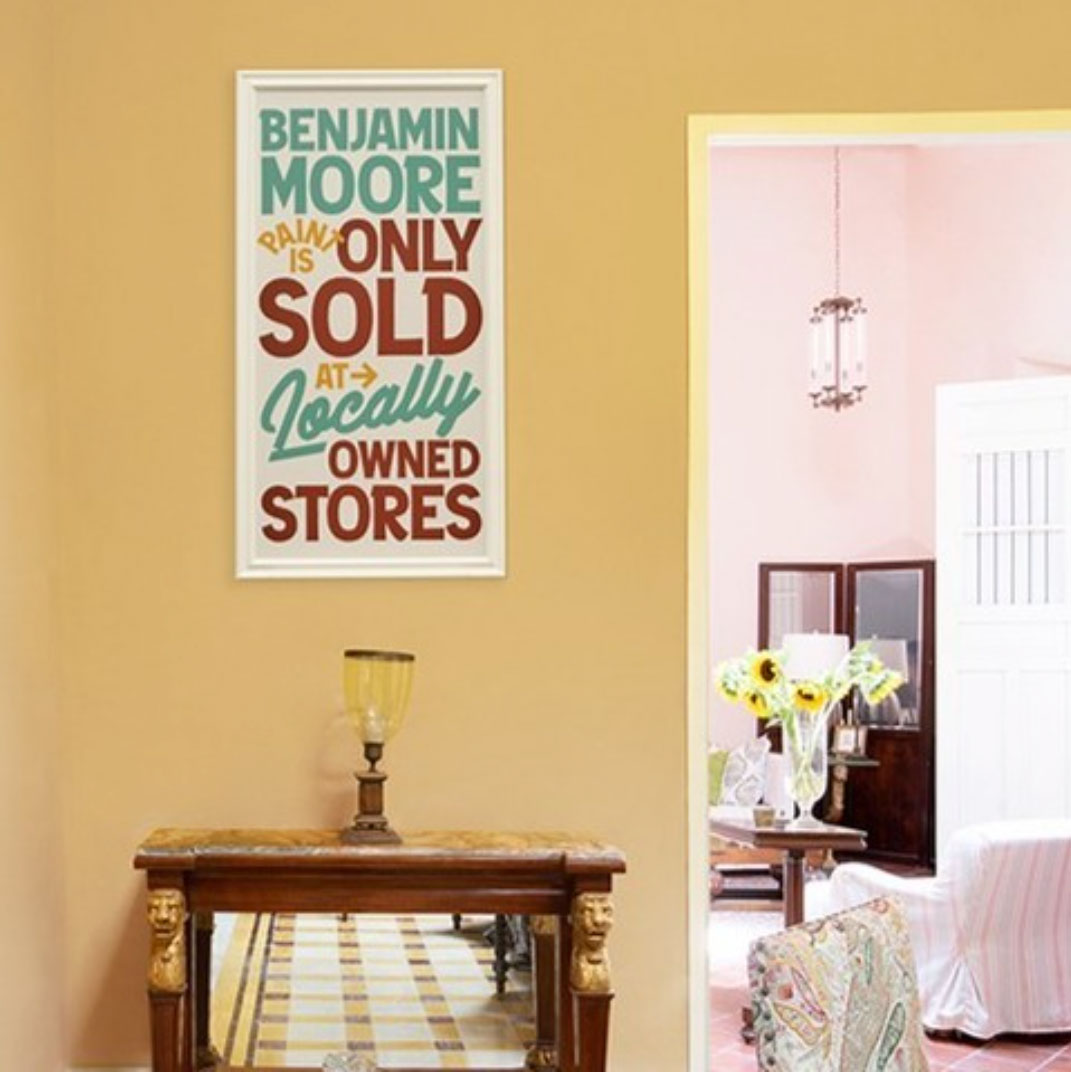 Years of experience has shown why Benjamin Moore's unique business model makes a difference when it comes to customer service.
Since inception, Benjamin Moore has stood up for small businesses by selling exclusively through locally owned and operated paint, decorating and hardware retailers. They know you can count on them for everything you need, for years to come.
We are proud to carry the entire line of Benjamin Moore paint sold only at locally owned stores.
For more information, please contact any of our sales staff. We are happy to help.