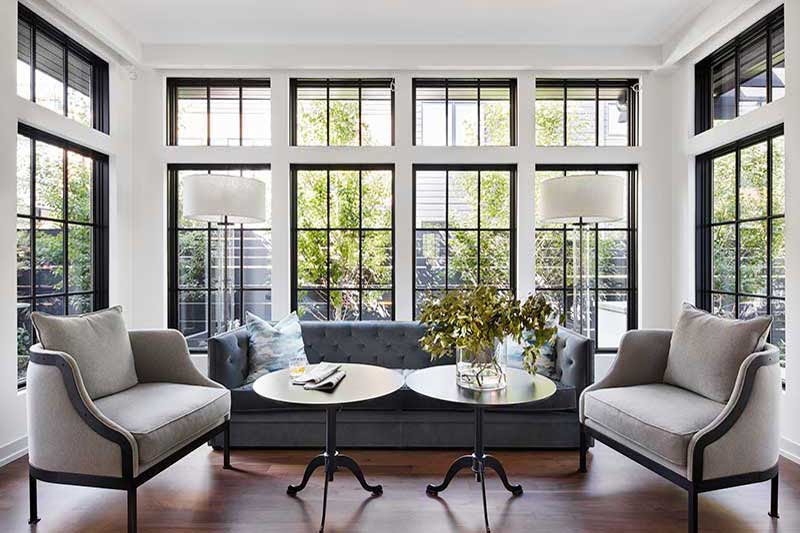 You won't often find Mediterranean-style homes in the Northern United States, but this home fits perfectly in the St. Paul neighborhood where it is located. In the five blocks to the north and south you'll find just about every architectural style you can imagine.
Charlie Simmons, founding principal and designer of the Minneapolis design firm, Charlie & Co. Design, was invited by a local developer/builder to collaborate on this spec home. The lot was just a few blocks from Simmons's own house. When he asked what type of architectural aesthetic they were after, the answer was, "We want a style that stands out but fits in, something classic but fresh." Charlie knew the property well, was intrigued by the potential design flexibility, and was excited to design a home that could leverage the gorgeous view of the scenic Mississippi River Valley that the lot afforded, so he agreed to the project.
Discovering the type of home best suited for the lot was the first step. "We started by analyzing the architecture of what was going on five blocks to the north and five blocks to the south," Simmons said. "There were homes that dated back to the turn of the previous century. There were 1950s ramblers, colonials, Tudors, mid-century modern—you name it—it was there. This gave us an opportunity to have a more broad approach regarding the type of home that would work. In the end, I was convinced, and was able to convince my partners, that a Mediterranean-style house would be a great fit."
Meticulously Mediterranean
Mediterranean architecture evokes stucco exteriors, arched openings, and low-pitched, clay tile roofs. While these obligatory features were certainly included, the design team took special care to treat them in a faithful yet modern approach.
"Historically, both exterior and interior walls on many homes, including Mediterranean-style homes, were built out of masonry units, which made them much thicker than our stick-framed walls today," Simmons said. "So, we replicated that heavy look on the interior, pointed arch passageways but added splayed corners to infuse a more modern flavor. We were also able to do something similar on those large pilasters on the loggia. We decided to splay the edges of those as well to help soften the corners a bit. But those pilasters, capped with limestone, supporting those big black reclaimed timber beams and purlins, all of that is authentic Mediterranean materials, design, and architecture."
White-on-White, Floor-to-Ceiling Interior Backdrop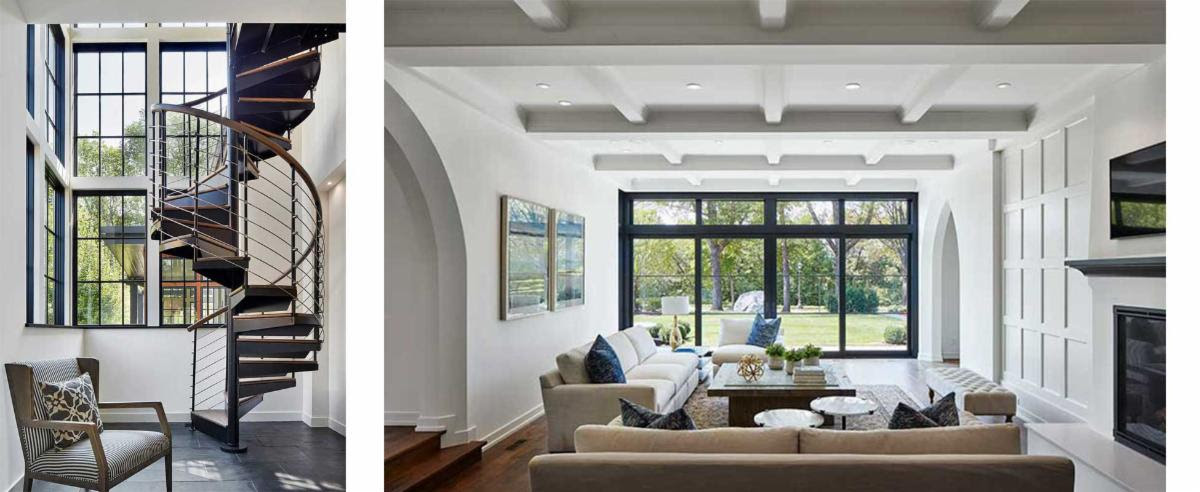 Another nod to the Mediterranean aesthetic is the white-on-white, floor-to-ceiling interior backdrop. One advantage to working with a proverbial blank slate is that it eliminates many of the color coordinating decisions that need to be made. However, the challenge is that the choices made on the shapes, lighting, and colors of the other objects in the room become more important.
"If everything's the same color, one thing you have to do is play with the texture and let the subtlety of the shadows differentiate the surfaces," Simmons said. "You can see how the light from the Marvin windows flooding the room plays off the ceiling members, paneling, and geometry of the fireplace. Also, the interior of a home like this has a museum-like quality to it, where you have dark floors which contrast and set off the white walls and ceilings, so when you do introduce color onto the wall or into the furniture, it adds a real punch."
Managing Views, Light and Design Through Fenestration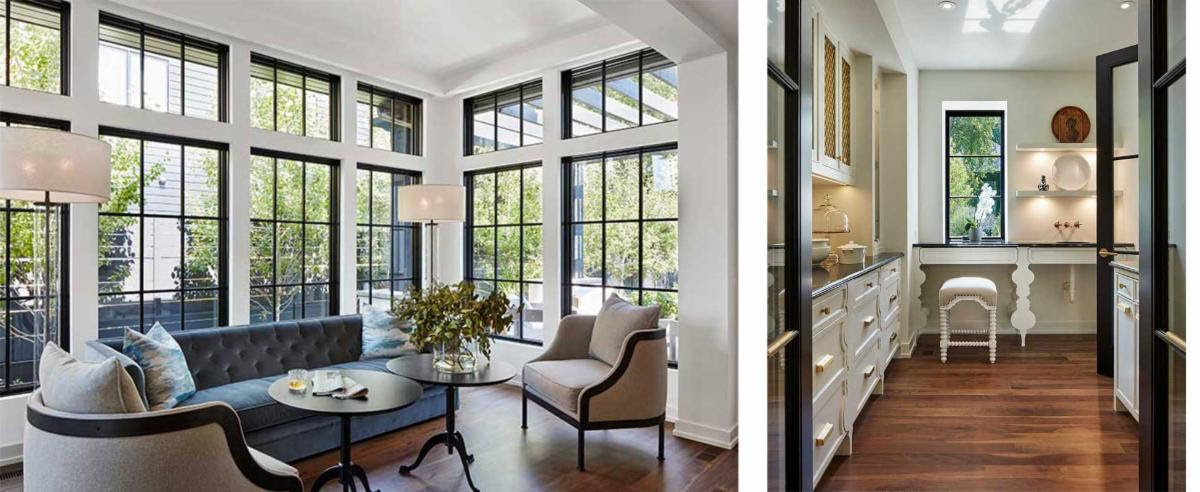 The house sits on a corner lot with one façade facing south towards the sun and the other facing west overlooking the river valley. The location and situation of the lot had a good deal to do with Simmons's enthusiasm about tackling this project.
"When you start with a piece of dirt that's on a corner, complimented by mature trees, yet exposed to an abundance of natural light, and add to that a spectacular view of the most scenic river in the world, the Mississippi, there's a lot of opportunity there," he said. "The characteristic of this property is one of the main reasons we chose a Mediterranean aesthetic. Not only was Mediterranean a unique style that stood out in the area, but the use of glass in Modern Mediterranean homes was a perfect complement for this lot."
Light-Filled and Airy Rooms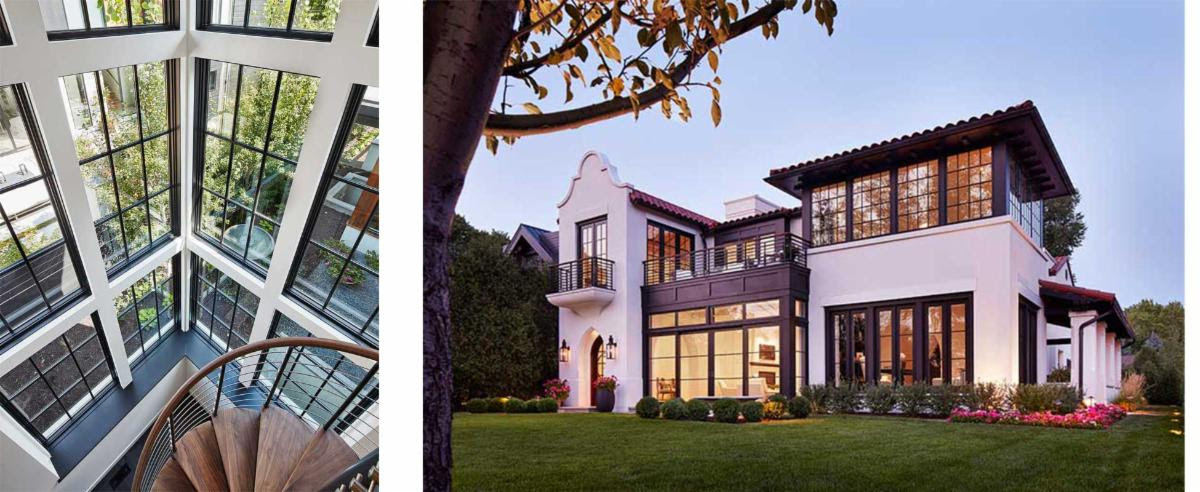 In addition to strategically locating large windows and glass doors to establish light-filled, airy rooms and to create access to fresh air and outdoor spaces, Simulated Divided Lite (SDL) patterns were used to generate dramatic curb appeal.
"The second-floor concept was to have both a horizontal and vertical SDL pattern, so at night, you see this illuminated tower that creates the illusion that feels like a large lantern is being held up While on the first floor, we didn't have verticals, we just had horizontals. That was very intentional. It's a long narrow house, and just having those two horizontal muntins accentuates that length."

If you are interested in learning more about Marvin Windows and Doors, please call (510) 649-4400 or text us at (510) 841-0511 and speak to our Window and Door experts.
Join our mailing list, follow us on social media, check out our events page on our home page of the website to feed your design curiosity, find solutions and stay inspired.
You can also schedule an appointment or come in and view our vast selection of Marvin Windows and Doors.