Photo courtesy Benjamin Moore
A fresh coat of paint can boost your home's curb appeal and help protect it from the elements. The temperatures in the summer provide the perfect drying conditions so you can paint much quicker. This allows you to apply multiple coats in one day. The warm temperatures allow exterior paint to cure at an ideal rate
Why Professional Contractors Recommend Element Guard® Exterior Paint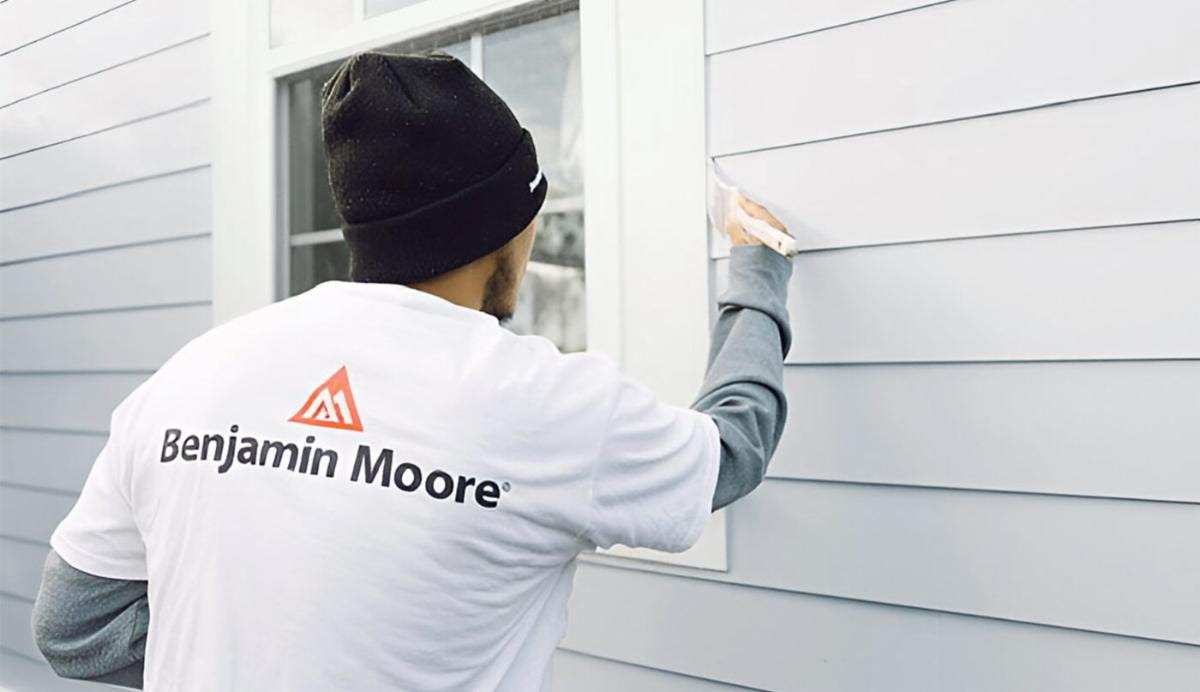 Every exterior should have a beautiful look and excellent protection, no matter the weather.
Formulated with 100% acrylic resin, Element Guard® provides protection against wind-driven rain, excessive humidity and other harsh weather conditions.
Pro painters love Element Guard® for its excellent adhesion, superior hide, and resistance to cracking and peeling. Hear from the professionals directly on why Element Guard is a game-changer.
Pro painters share how Element Guard® counters weather concerns and keeps jobs running smoothly.
"Priceless"
Element Guard helps painters achieve higher comfort levels when facing challenging weather conditions
Changing Weather? Opt for the Best Exterior House Paint
"Element Guard is a product that painting contractors can trust, when they don't trust the weather," says Stacie Anderson LaGrange, a Benjamin Moore Territory Rep who works with painting contractors every day.
"We Were Able to Keep Painting"
"Easy" is not the first word that comes to mind for an exterior paint job, especially in wet weather. But according to Alex Bravo, of Alex & Alex Painting Inc., Element Guard® helped keep his painting job moving without a hitch.
Low Temps and Moisture? No Problem
Before Element Guard®, this painting team couldn't start spraying until 10 a.m. due to cold, moist weather conditions.
Once they started using Element Guard®, the team was able to start at 6:30 a.m., and could paint in temps as low as 35°F. "It's helping out the project," he says. "Everybody's happy."
If you're in a dry, hot climate, Element Guard® can help too; It can be applied in temps as high as 100°F.
Quality Contractors Need Quality Exterior Paint
Clients depend on his company to provide superior quality. That's why Gus Camolinga, the President and CEO of McDermaid Painting, counts on Element Guard® to get exterior painting jobs done the right way.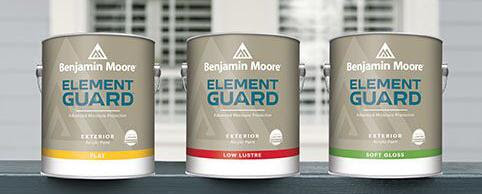 Benjamin Moore Element Guard Outdoor Paint is featured in flat, low lustre or soft gloss.