How architects and builders solved the challenge of crafting a structurally sound glass house.
How do you build a house that isn't there? An apparition that kids can pass right through, dashing on a warm summer day from an open field to the lake below, grabbing snacks along the way. Where adults sip drinks under the night sky, winter howling, as if in a real-life snow globe.
It's a riddle solved by the teams of Charlie & Co. Design Ltd. and John Kraemer and Sons Custom Builders by crafting a stunning home on Lake Minnetonka. One nestled among the trees, water and greenery, seamlessly blending the inner and outer worlds that make a place home.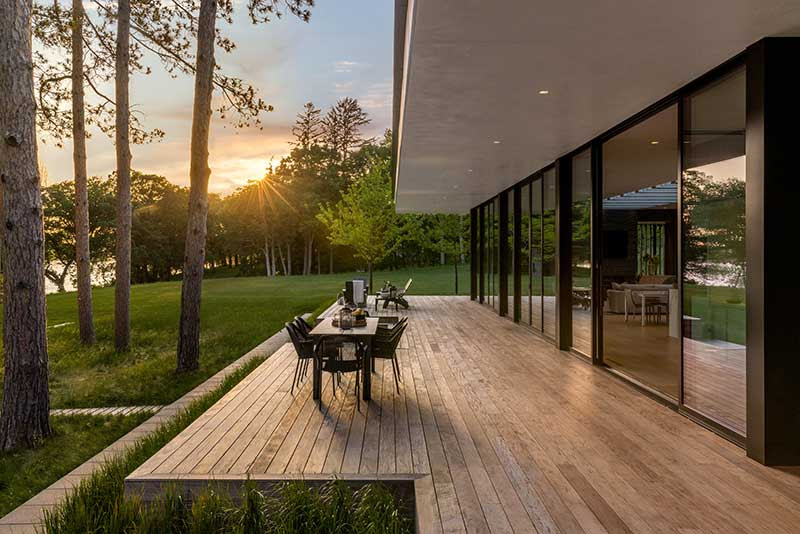 There was one fundamental hurdle: Buildings must stand up. Glass is not designed to hold weight, so to overcome this challenge, architect Charlie Simmons, founding principal at Charlie & Co. Design Ltd. and his team included structural design pieces like a stone fireplace shear wall to blend form and function.
"There are very few actual walls in this place, particularly on the first floor," Simmons said. "So we have these structural elements that we need to keep the house up and prevent it from twisting, which would be the fireplace on one end of the open room."
On the opposite side is what he refers to as "a box within a box"—a wood box that houses the kitchen, laundry room and powder room, and bookends the fireplace.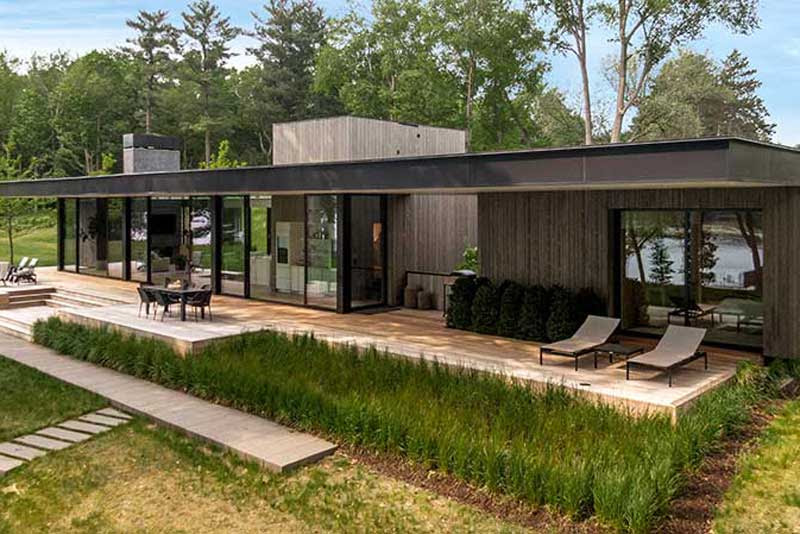 The highlights include 60-foot-long sliding doors on both sides—a nearly unprecedented expanse of glass—from the Marvin Modern collection to maximize natural light and views of Lake Minnetonka, with a product that is slim, but strong enough to withstand harsh Minnesota winters. The roof features an overhead skylight, another connection to the outside world.
"It's like a living home," Simmons said. "Whether it's noon in December or in July, the light here is different."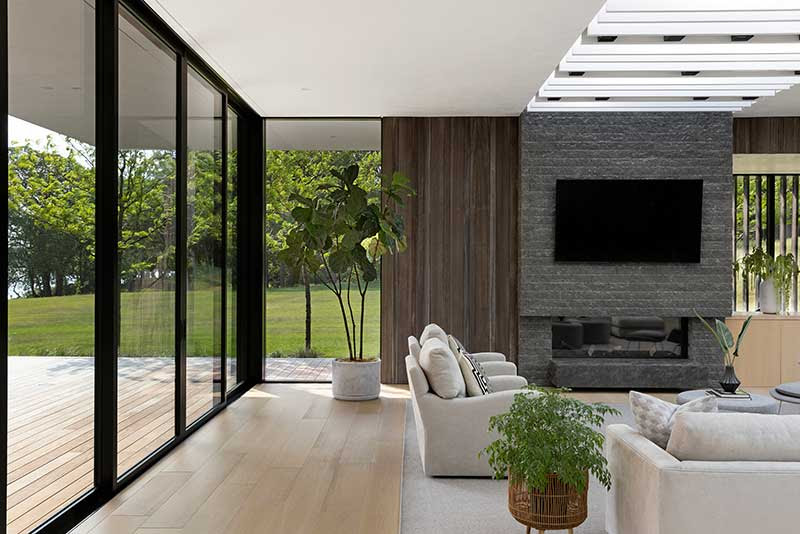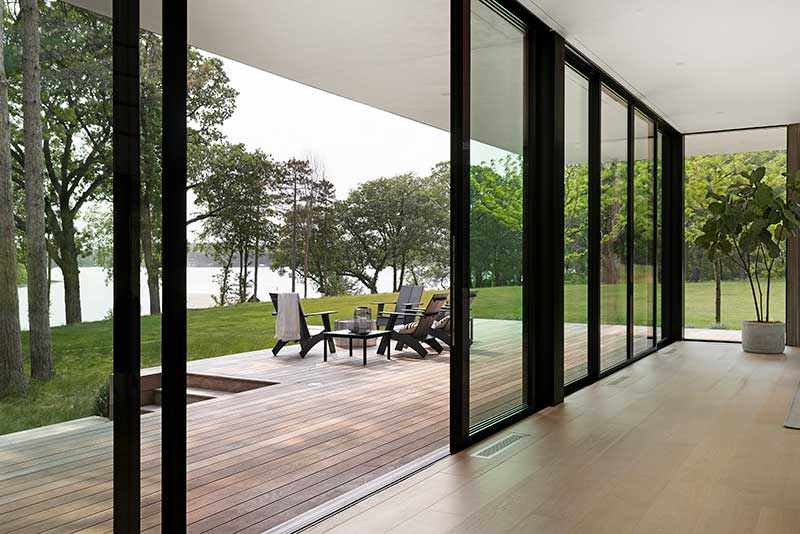 With the number of windows, the next challenge was creating privacy. The large lot has plenty of trees, and a sloped yard leads down to the lake, forming a natural flow, but limited privacy with glass on four sides.
The solution included adding landscaping trees near the home, and wire-brushed white oak millwork that blends with the pine trees on the property. A wood cladding made from Accoya, a softwood similar to cedar, further enhanced the look.
These piney elements also flowed inside, blending with the cabinets and interior woodwork to create a cohesive indoor/outdoor space.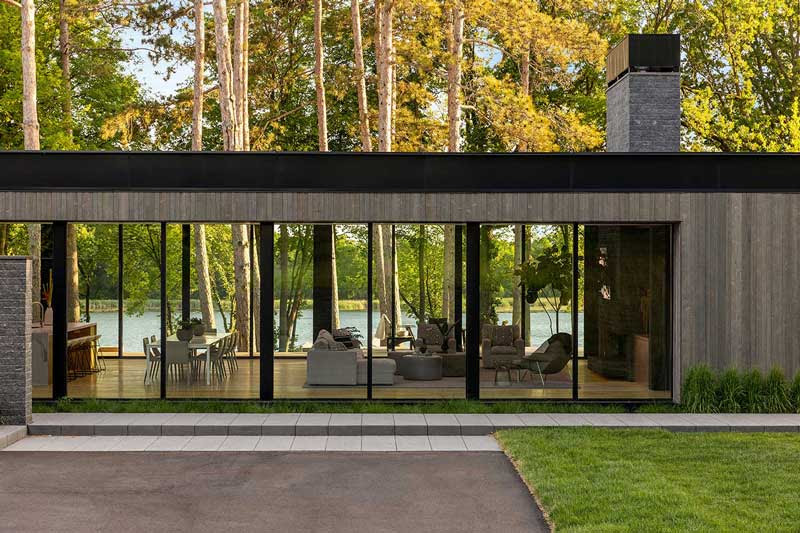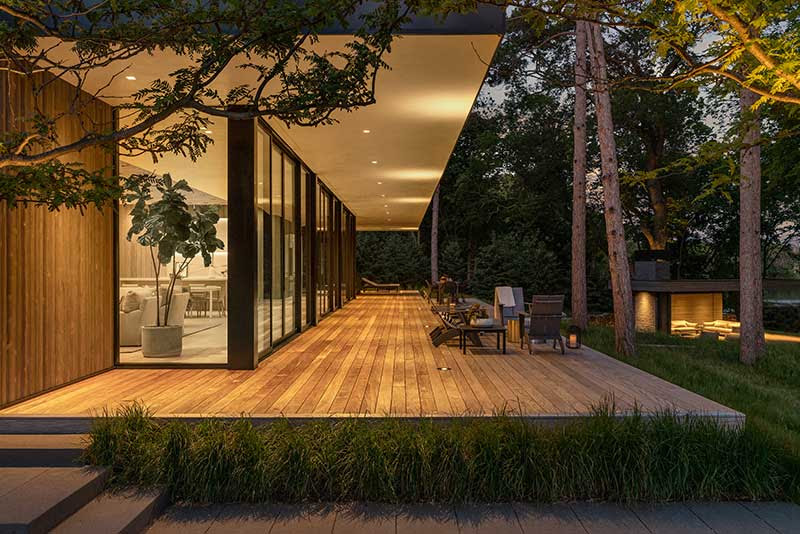 It all Comes Back to the Windows and View
"What's really remarkable about this home, from my perspective, is just how unique it is," John Kraemer said. "We build homes of all shapes, sizes and styles, and what I thought was so cool about this house was just how much glass there is."
The result solves the initial challenge. A private oasis to be used all year, with the sharp, clean lines of a modern design, lake views, and luxurious amenities.
"You can see from the front yard all the way through the backyard, it's literally like living in a glass box," Kraemer said. "And when you sit in this space, it just makes you feel good, right? And you feel happy. You feel healthy, taking in the views in the natural light."
Photos in this article by Spacecrafting

If you are interested in learning more about Marvin Windows and Doors, please call (510) 649-4400 or text us at (510) 841-0511 and speak to our Window and Door experts. You can also schedule an appointment or come in and view our vast selection.