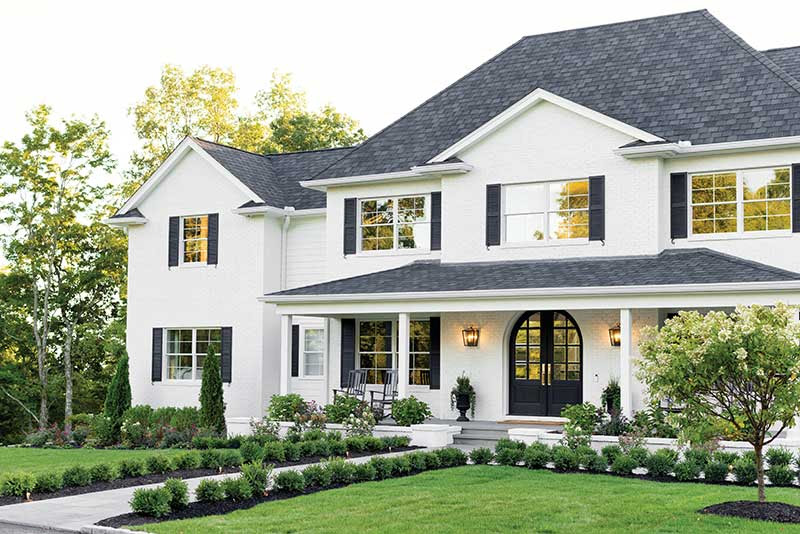 This Connecticut home is all about capturing light, connecting with nature, and creating lasting family memories.
Natalie and Briana Hildt, who each work in a different capacity in the home industry, were living in San Diego but finding themselves traveling back to New England frequently for work and holidays with family. Briana, who hails from Western Massachusetts, is the CEO and founder of Cardinal Capital Group, a private real estate lender, and Natalie is an interior designer and principal of Hildt Interiors.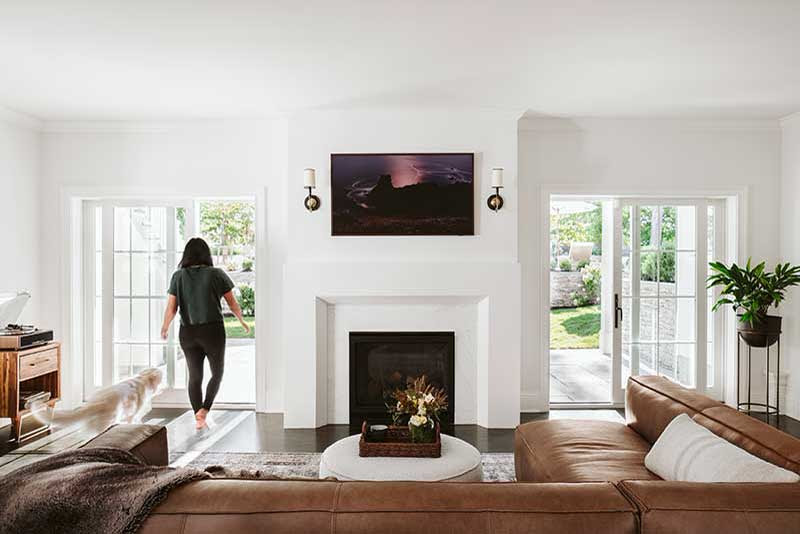 "Right before we got married in 2019, my industry was booming, and some of my developers back east were requesting Natalie's design help. We felt like we were being called back to the East Coast," Briana said of their move to Connecticut. After living in a complete gut rehab of a house in West Hartford for two years, they decided to build their dream home from the ground up.
Their chosen spot in neighboring Farmington, an inland town overflowing with colonial and country charm, overlooks a valley and mountains in the distance. A great deal of excavation prep situated the home advantageously. "In the summer, we are surrounded by trees and feel like we're living in a treehouse," Natalie said, "but when the leaves fall, we have long views down the valley. It's a pretty setting no matter the season."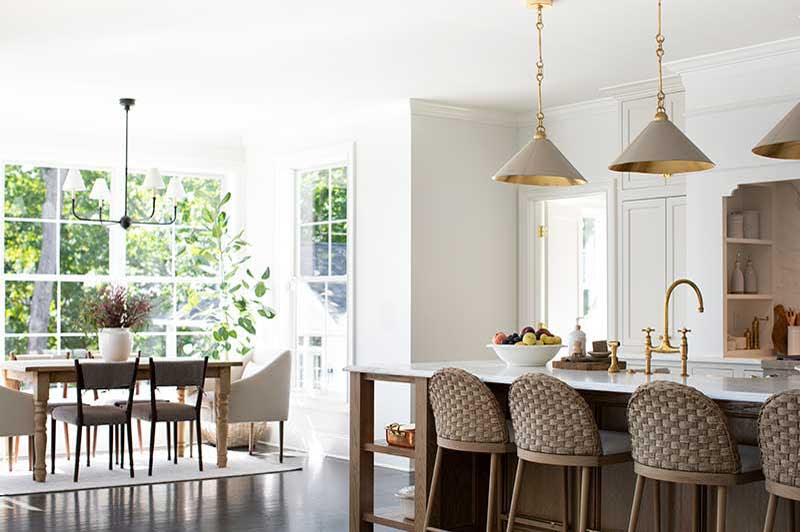 West Hartford-based architect Joseph Buchek worked with the homeowners to bring their vision to life, using their provided images and sketches as guides. "One of our primary goals was to open the living spaces to the western view," he said. "This was accomplished by using expansive areas of glass doors and windows on the western façade."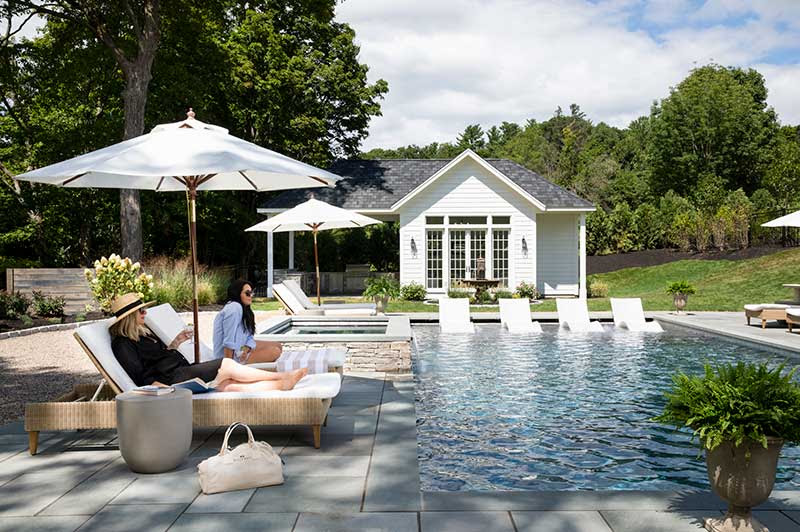 Outside, the couple desired a traditional New England presentation. "We wanted it to look like it has been here for decades," Natalie said of their new-old goals. "I've always loved gables of brick, and we left the grout a little messy to give the exterior an old-world feel." The white finish is an homage to the white clapboards on Briana's childhood home. While the home's bones communicate tradition, the interiors skew more contemporary. "We call it modern-traditional."
One of the biggest considerations in the overall design was the glazing. "I sought out the biggest windows we could fit in our spaces," Natalie said. "I grew up in San Diego, so it was really important to me to have lots of light and a connection to the outdoors."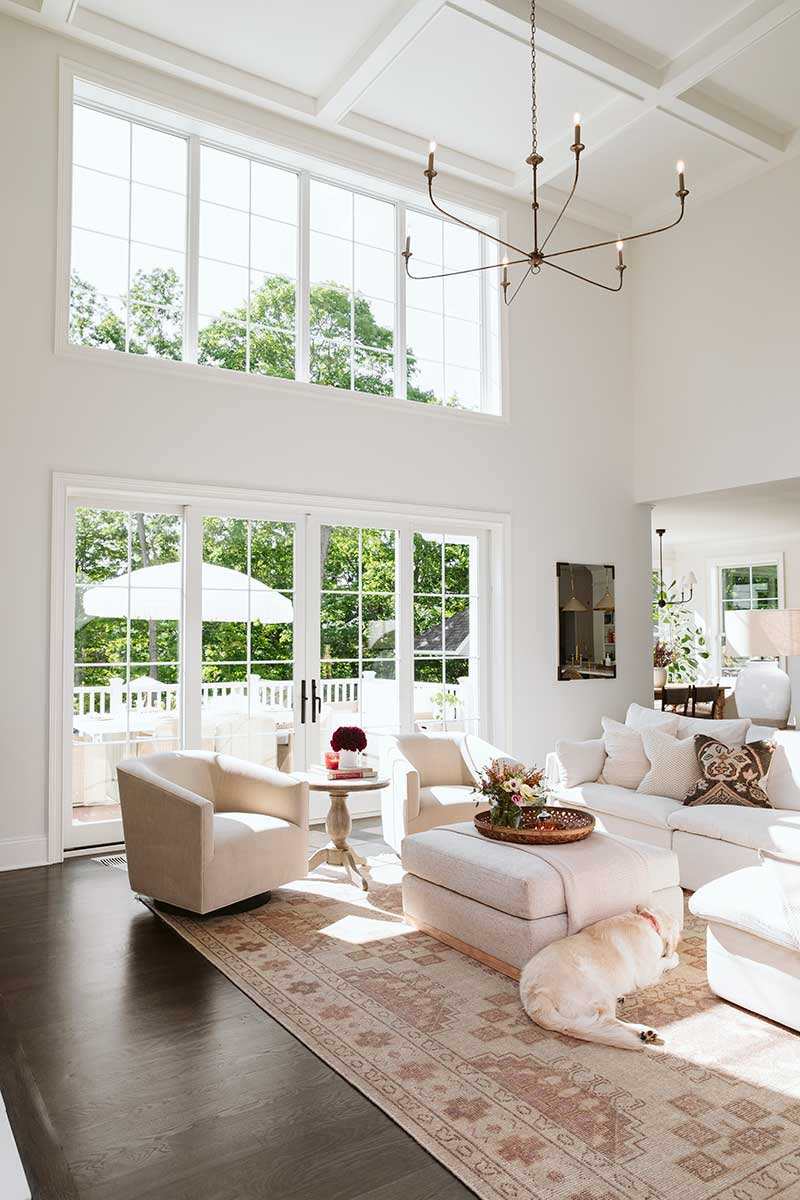 The couple worked closely with Michael Altieri of Country Lumber to identify the perfect windows for their new home. After careful research, the Hildts decided on the Marvin Essential collection, a durable, maintenance-free fiberglass window option. With a baby on the way, they were drawn to the collection's longevity and, as home professionals, were impressed with its clean lines and versatility in accommodating oversized specs.
Before breaking ground, the couple visited the 7 Tide building in Boston's Seaport District to browse Wolf and Sub-Zero appliances in the Clarke showroom. At the same time, they utilized the Marvin Experience Center to visualize their windows and doors in their actual size and scale. The visit was a game changer. "When we saw our windows on the screen, I knew right away I wanted them to be bigger," Natalie said. "This step was invaluable—it was so important to the project's success."
A purposeful sense of airiness begins in the front entry, where a delicate glass chandelier hangs from a 20-foot-high ceiling. This grandness continues in the two-story great room, with six-foot windows topping sliding French doors. This wall of transparent glass prefaces a porch, poolscape, and the landscape beyond. For Briana, the vaulted living space conjures childhood memories.
"When I was younger, my dad built houses on the side, and my favorite had a catwalk overlooking a two-story living room," she said. "It was always full of light."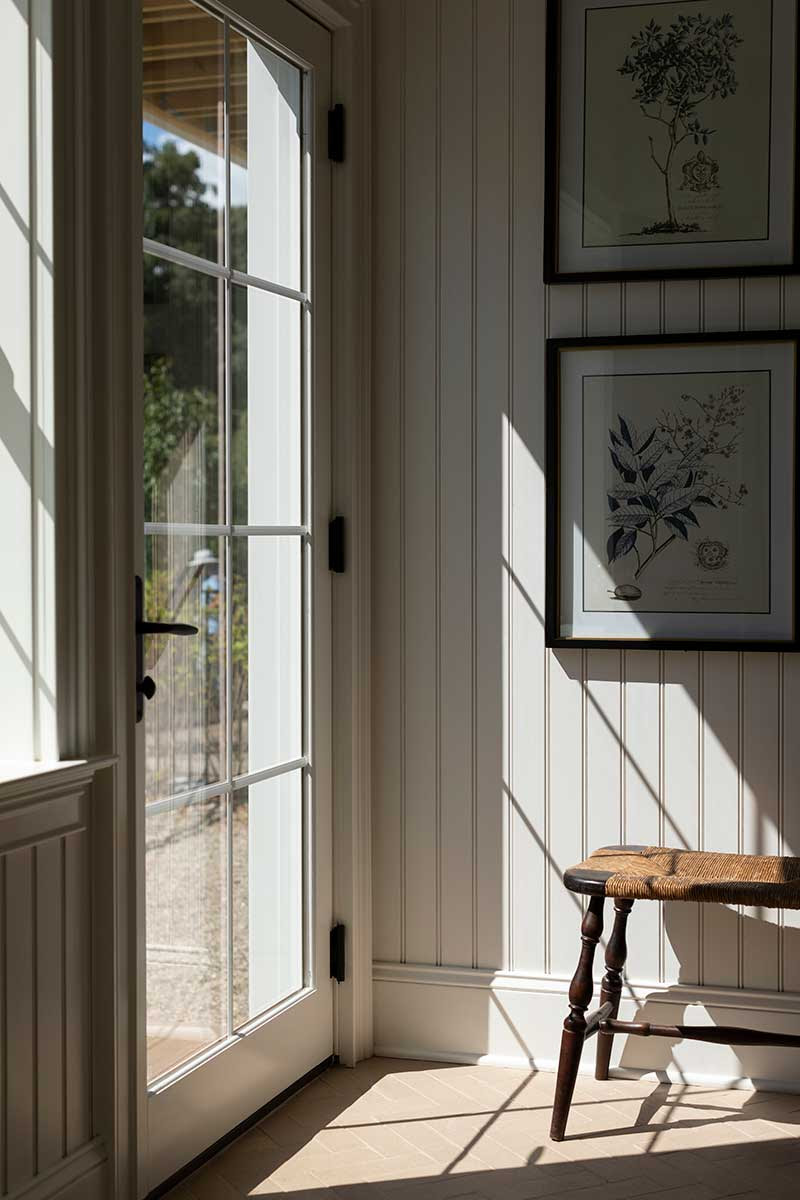 The kitchen, which overlooks the great room in an open-concept arrangement, anchors the interior design's prevalence of neutral colors and light woods. Its showpiece is a custom range hood with molding details designed by the couple and executed by finish carpenters. Chef-friendly appliances include a Wolf range and a Sub-Zero refrigerator, freezer, and wine storage unit.
"I wanted the kitchen to feel like a beautiful piece of artwork," Natalie said. She eschewed anything cold or sterile in her quest for warm and inviting. Woven stools from Studio McGee emit a natural, organic feel. Leather pendant lights add yet another layer of texture. Nearby, a breakfast nook projects out toward the view from the main mass of the home. Its five 42-inch by 78-inch windows create the look of a transparent surround.
Inspired by their time in San Diego, Natalie and Briana valued their outdoor living spaces as much as their interior retreats. A walkout basement opens to an elegant poolscape with bluestone decking, a poolhouse, an outdoor shower, and a fully outfitted outdoor kitchen. "Our backyard is very much an entertainer's paradise," they agreed with a laugh.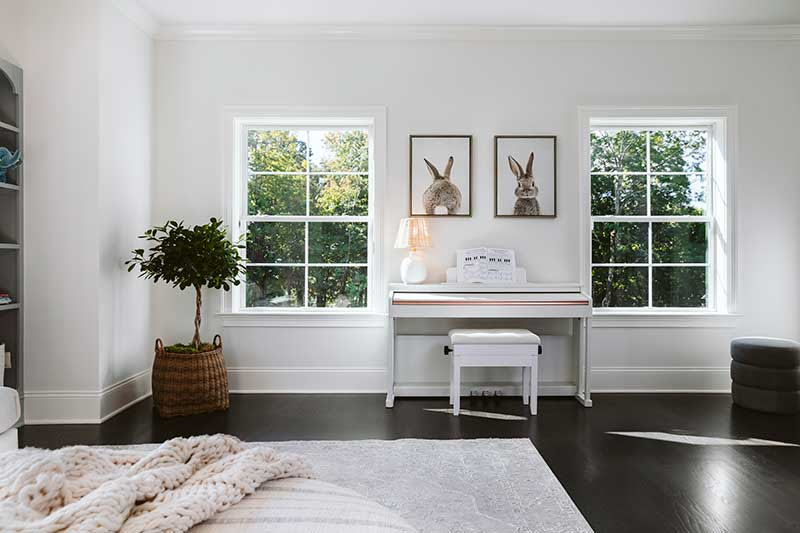 Not surprisingly, the couple's mutual strengths pushed the project along rapidly and efficiently. They broke ground in July and were in by Memorial Day. "Our builder, Tom Fredo, was great, and we were onsite a lot, making decisions and keeping things running smoothly," Briana said.
"We divided and conquered," Natalie concurred. "I had all the furnishings measured and ordered six months in advance, which helped us manage inevitable delays."
Asked about their favorite spaces in the home, they launch quickly into a list: "We spend lots of time in the kitchen, and the butler's pantry is a huge hit with anyone who visits," Natalie said.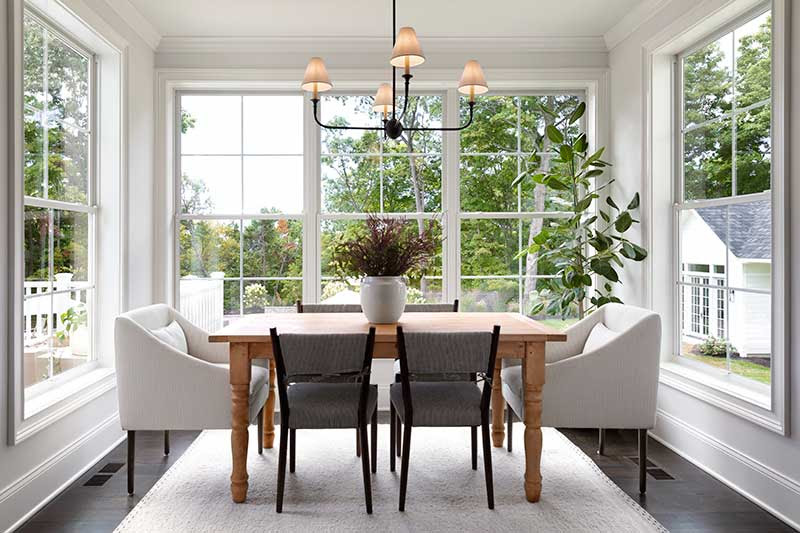 "We love relaxing in the great room, having lunch together in the breakfast nook, and we adore our primary bathroom, which is light and bright and feels soothing like a spa."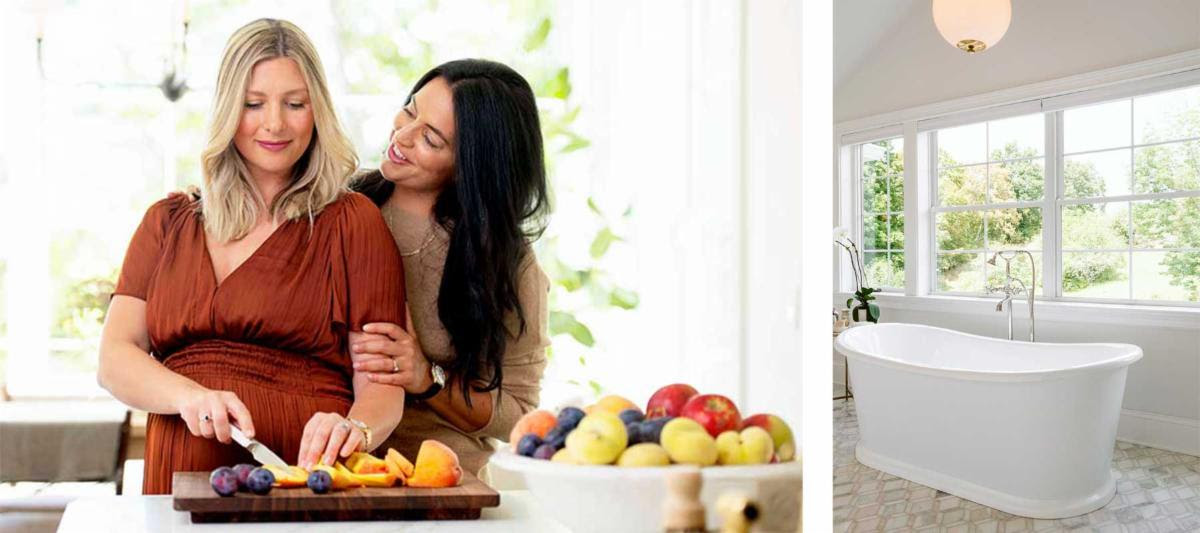 The project was rewarding for the couple professionally, but more importantly, it was rewarding personally. The completed home is a portrait of their combined histories, styles, and personalities.
"That's the benefit of designing your own home," Natalie said, "you can customize it to celebrate what you love."
A version of this article was originally published in New England Living magazine.

If you are interested in learning more about Marvin Windows and Doors, please call (510) 649-4400 or text us at (510) 841-0511 and speak to our Window and Door experts. You can also schedule an appointment or come in and view our vast selection.