Spectacular views informed the design of a stylish recreational retreat in the Vermont mountains.
Rob Wadsworth, owner of Wadsworth Design Build, says his team is always thinking about windows. "Windows are the eyes of the house and set the tone for what the design of the interiors will be," he said. The team begins by considering ways to capture the views outside while also planning how natural light will appear inside. "Obviously, Vermont has many beautiful views, and the great thing about this state is that we have clients who want to enjoy Vermont in all seasons."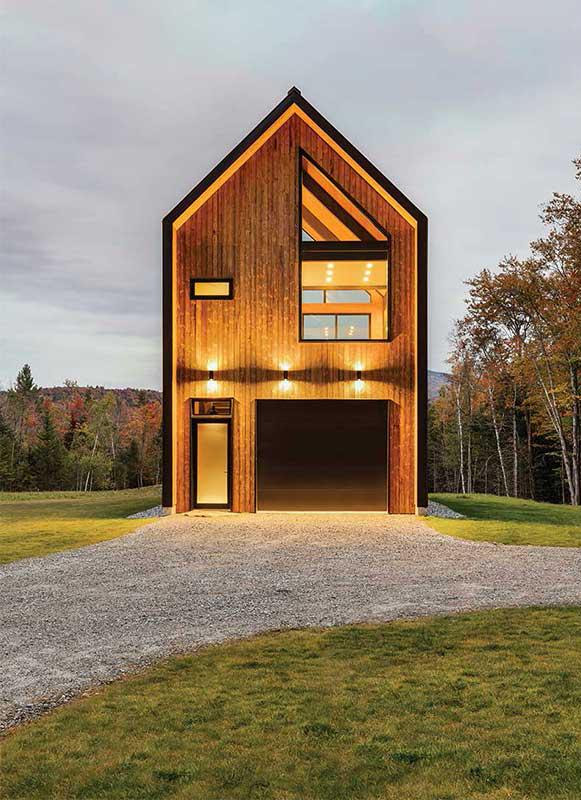 The clients for an intriguing barn-like retreat near Stratton Mountain were initially looking to build a garage to store mountain bikes and gym equipment, with two doors to drive a snowmobile in one side and out the other without having to back it up. After consulting with Wadsworth Design Build, the project expanded into a guest house with sleek living quarters above the multi-use garage space below. "We call it a modern car barn," Wadsworth said. "It has a very functional streamlined design that is open and airy. The heated garage has a dual purpose—the doors can be opened during the summer months to create incredible entertaining options with a fire pit and a sheltered area."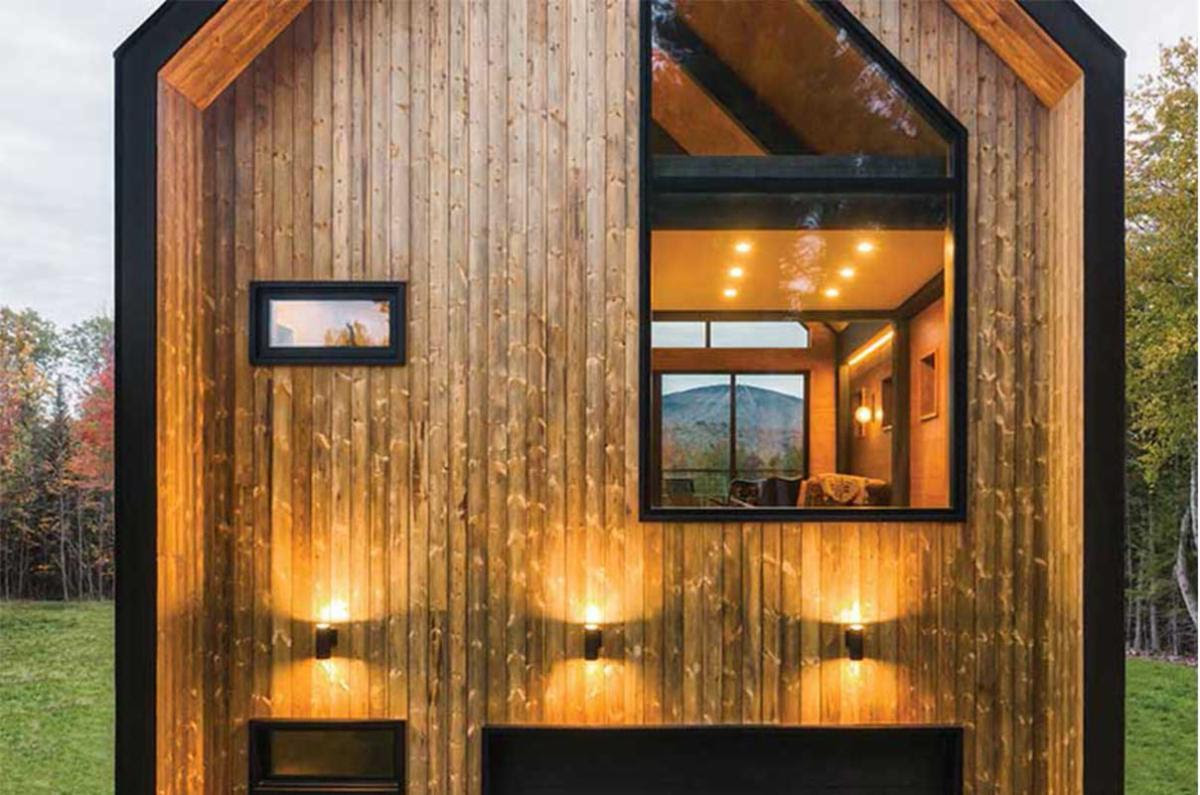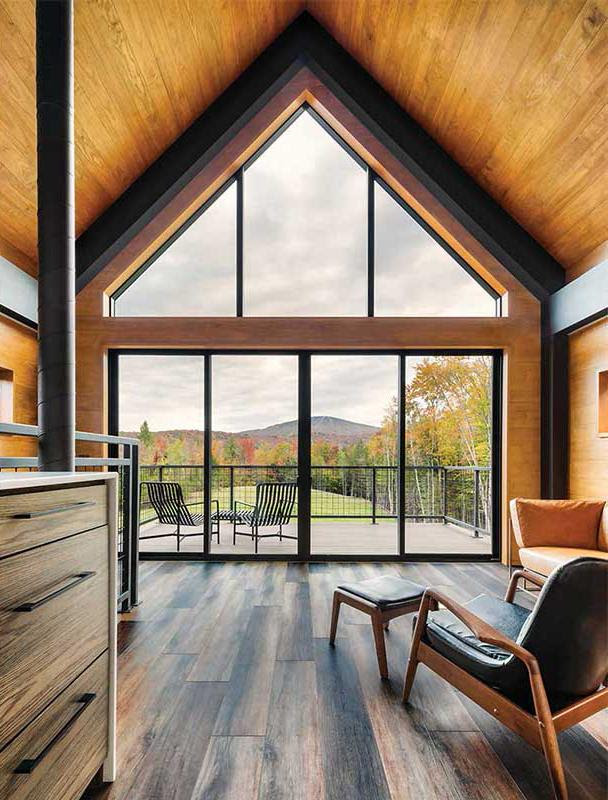 To take full advantage of the property's views, Wadsworth Design Build partnered with Marvin. "This design focused on using windows to capture the essence of what Vermont is all about," Wadsworth said. He believes thoughtfully placed windows can be a powerful tool for homeowners when planning out the spaces and the aesthetics of their house. "A home can feel that much more beautiful and more inviting just because of the use of natural light."
Wadsworth enjoys working with Marvin because of the flexibility of the products and the cooperative approach to designing projects. "Marvin provides us the ability to be creative with what we're bringing to life," he said. "They allow us to mix different collections together in one home, and we're not limited by certain parameters of size or material. We're able to think outside the box."
In fact, this project features three Marvin product lines: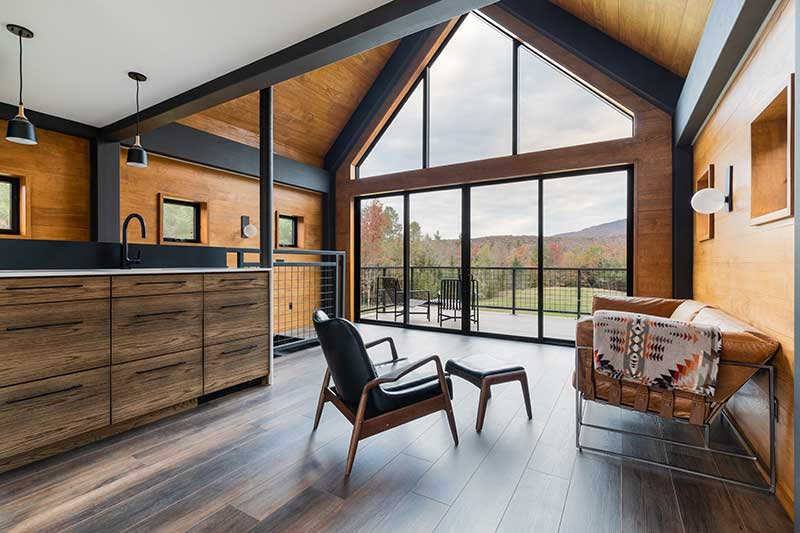 The modern car barn design includes an oversized, energy-efficient trapezoid window in the upstairs living quarters. "You can see the sky, the trees, and the lawn area from the lounge and kitchenette," Wadsworth said, noting that as the seasons change, the light changes in the home. "Being Vermont, we want everything to be as energy-efficient as possible. We want to keep in the warmth in the winter, and in the summer months we need options for cooling and ventilation. Marvin's array of collections offers all of that wonderful flexibility."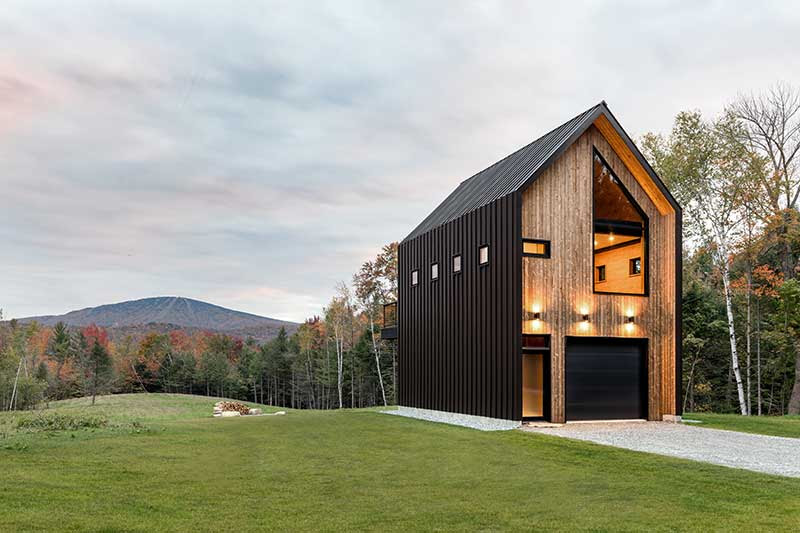 Wadsworth said this project has received an incredibly positive response and has been a source of inspiration for other clients. "People are looking for smaller-scale homes that can still feel spacious, and what makes this car barn feel so large despite its minimal footprint is the use of windows." He believes this project clearly shows the homeowners are actively enjoying their environment. "It is all about embracing that Vermont lifestyle dream."
This article originally appeared in New England Living magazine.

If you are interested in learning more about Marvin Windows and Doors, please call (510) 649-4400 or text us at (510) 841-0511 and speak to our Window and Door experts.
Join our mailing list, follow us on social media, check out our events page on our home page of the website to feed your design curiosity, find solutions and stay inspired.
You can also schedule an appointment or come in and view our vast selection of Marvin Window and Doors.