Mood board featuring the Marvin Essential Glider window and complementary objects, colors, and textures for the space.
Learn about using mood boards as a design tool and discover why creating one will help ensure that your project turns out as you imagined.
Successful home projects are the result of builders, designers, and homeowners collaborating and staying on the same page. And today, it's easier than ever to create and share that page. Thanks to a multitude of readily available digital tools, visual roadmaps known as mood boards offer up "pictures that are worth a thousand words" and help make sure what was envisioned at the start of a project is realized at the end.
Originating in the fashion and interior design industry, mood boards offered designers a way to communicate at a glance the look and feel of a room or collection. By physically pinning paint chips, fabric swatches, or illustrations to boards, these creatives could convey their "mood" or inspiration. But these physical boards were limited in how they could be shared, since most were typically attached to studio walls.
With the advent of user-friendly web applications, most notably Pinterest in 2009, it became almost effortless for anyone with a computer to collect images and share their inspiration via a digital platform. "Pinterest really kind of started this phenomenon," said Terese Isaacson, Art Director at Marvin. "It allowed the kind of access that everyone can do this," she said.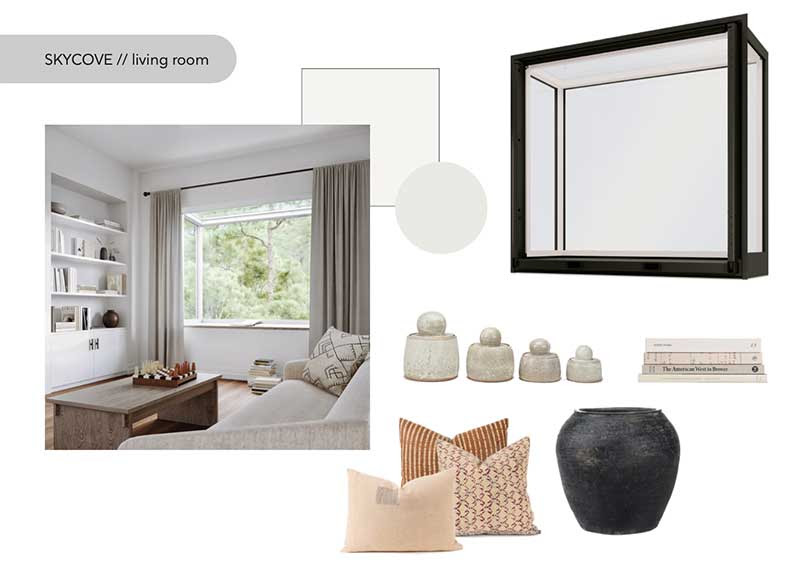 A mood board including the Marvin Skycove conveys the look and feel of the interior space.
A mood board offers visual clarity at the start of a project. "Essentially you are creating the overall look and feel for how you want your space to be designed and that includes all the textures, all the colors, and all the materials, so that you can see how everything looks together," Isaacson said. "Sometimes it's just getting rooted on 'this is what it is going to look like,' getting that alignment and then pushing it forward," she added.
Mood boards are a dynamic tool that act as a "united starting point," Isaacson said. "They are essential before the project gets into the tactical and execution build out." And most importantly, they can help minimize costly mistakes that are often the result of miscommunication.
Mood Boards: Personal and Professional Projects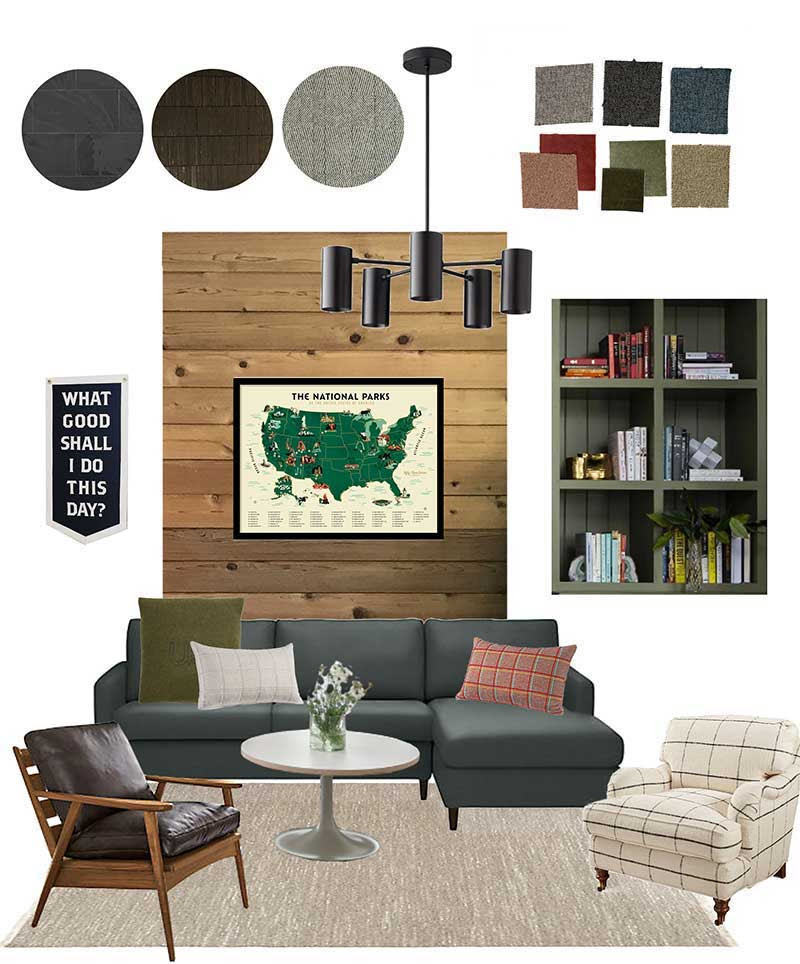 A mood board for the Minne Stuga, a cabin renovation project designed by Melissa Coleman of The Faux Martha.
There are as many types of mood boards as there are people. And many industries utilize them as critical project tools and as a guiding light. "There are interior and architectural mood boards, fashion and home mood boards, architecture and design project mood boards… the list goes on," Isaacson said. In addition, graphic designers and UI (user interface) designers regularly launch projects with mood or inspiration boards. "It's really a huge range," Isaacson said
On a more personal level, mood boards are created to inspire travel, wedding planning, healthy habits, and bucket lists. They offer a compact and succinct method of visualizing and highlighting what's important to the creator. What's more, mood boards provide a well-established and proven approach to keep projects and personal goals on track.
Although digital mood boards have facilitated the creation and sharing aspect of these tools, Isaacson said there is still a need for physical boards once an interior or architectural project has been launched. "You'll move into more of a physical mood board as you pull in those samples like tile and flooring swatches, even the hardware for cabinet knobs and faucets," she said.
Getting Started With Your Own Mood Board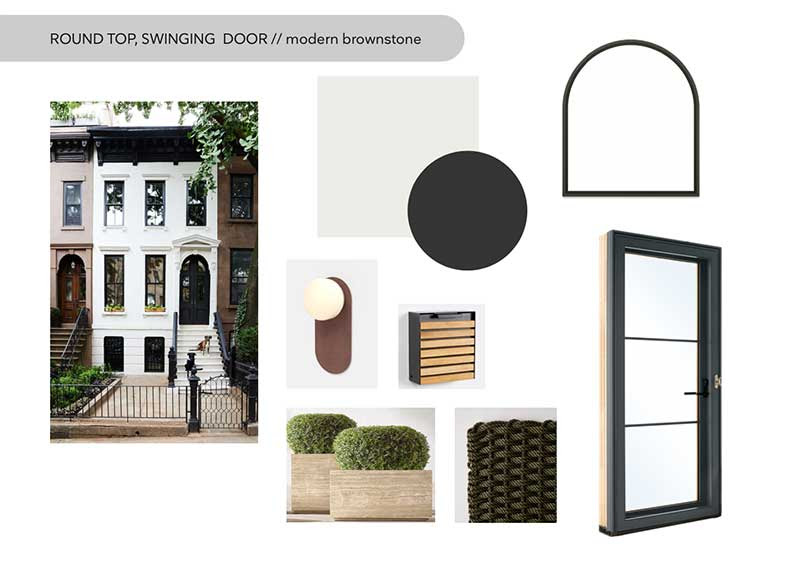 A mood board featuring a Marvin Elevate Round Top window and a Marvin Swinging door offers inspiration for the exterior design of a brownstone home.
"Just start." That's the advice of Isaacson when it comes to creating a mood board. "You will edit and curate as you refine how you really want the look and feel to be," she said. Jumping in is the first step. She believes that everyone has an innate sense of where to begin. "They can start with something that is meaningful to them – an heirloom, inspirational art—these are all good starting places."
Collecting images to create a collage is the cornerstone of a strong mood board. Pinterest, as well as Google Images, are excellent resources for this. For interior inspiration, look to Houzz or even Zillow. And a plethora of websites that make it easy to create online mood boards have also popped up in recent years. These include Canva, a site that offers free and printable mood board templates, and Miro, an application that has templates along with the added benefit of real time collaboration with your team.
Keeping an open mind and realizing that creativity can be sparked in unexpected ways is also key. For example, Isaacson is especially influenced by restaurants. "Their branded identity is so strong – from the menu to the overall look and feel of the space," she said. "Inspiration comes from a ton of different places." And she underscores the importance of a strong mood board as an essential initial planning tool. "Visuals speak louder than words all the time."