One hundred years ago, black windows were de rigueur. Now they're back and looking better than ever.
They're the little black dress and the classic tuxedo. They frame and define like eyeliner yet disappear in their monochromatic neutrality. And they effortlessly enhance both modern and vintage interiors with their industrial-inspired roots. They're black windows – a look first seen in steel framing over 100 years ago. And they're experiencing a robust resurgence today in all manner of interior design.
Black Windows Are a Bold Neutral Choice
Contrary to their bold presence, black-trimmed windows naturally take a back seat to the outside view making them a wonderful choice for many applications. According to Barbara Bradlee, owner of Bradlee Design, black windows "punctuate the view and add depth and dimension to a room's interior design." She added that "black is a neutral. It is bold but both current and classic."
Despite their chameleon-like reputation, black windows make a strong and "confident" statement, Bradlee said. "Black draws in a person's eye and provides a signal that this window is a design element that is meant to be noticed. It instills a sense of clean, simple, confident, and strong design."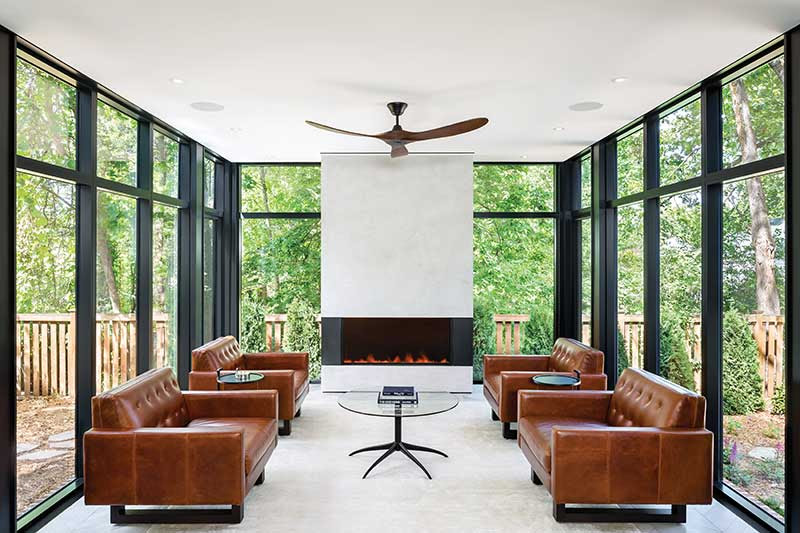 Photo by Andrea Rugg
Black Windows Enhance All Architectural Styles
Be it bohemian, modern farmhouse, or coastal contemporary, black windows create a crisp and streamlined look in any style home, including classic ones.
According to designer Mary Douglas Drysdale, a blending of architectural and decorative elements falls in line to create the style "imprint" of a home. "In my view, black can be effectively used in a modern space as well as transitional or even traditional space. It's simply a tool for refocusing the emphasis created by a door or window."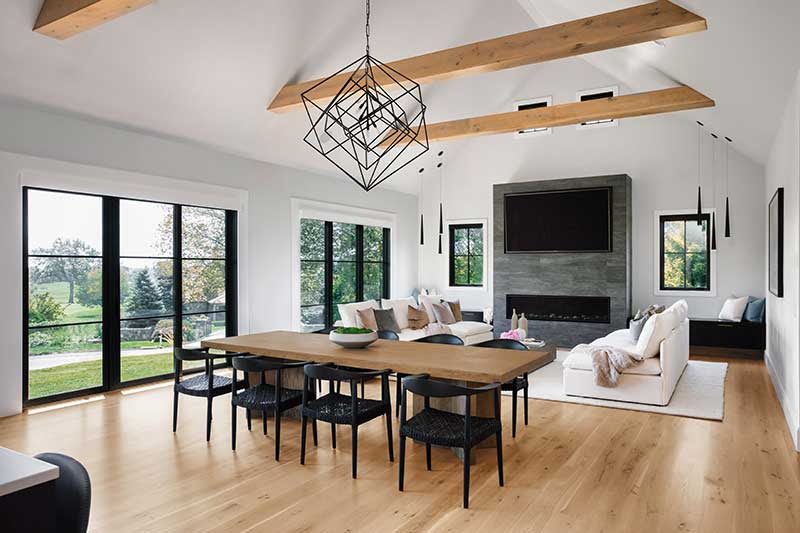 Interior Design to Complement Black Windows
Black windows pair well with exposed brick, neutral furnishings, and natural woods. And while white, taupe, or grey walls are a natural complement to black, Bradlee also suggests that a myriad of other colors such as rust, green, aqua, blue, and gold also be considered along with bold patterns and prints in textiles and wallpaper.
However, the beauty of black windows can be what isn't needed to make them stand out. Some designers suggest black windows look best uncovered, saving associated costs that come with purchasing window treatments. But this could be impractical for some homeowners. In that case, simple roller shades in white or natural bamboo can complement the minimalistic character of this style window.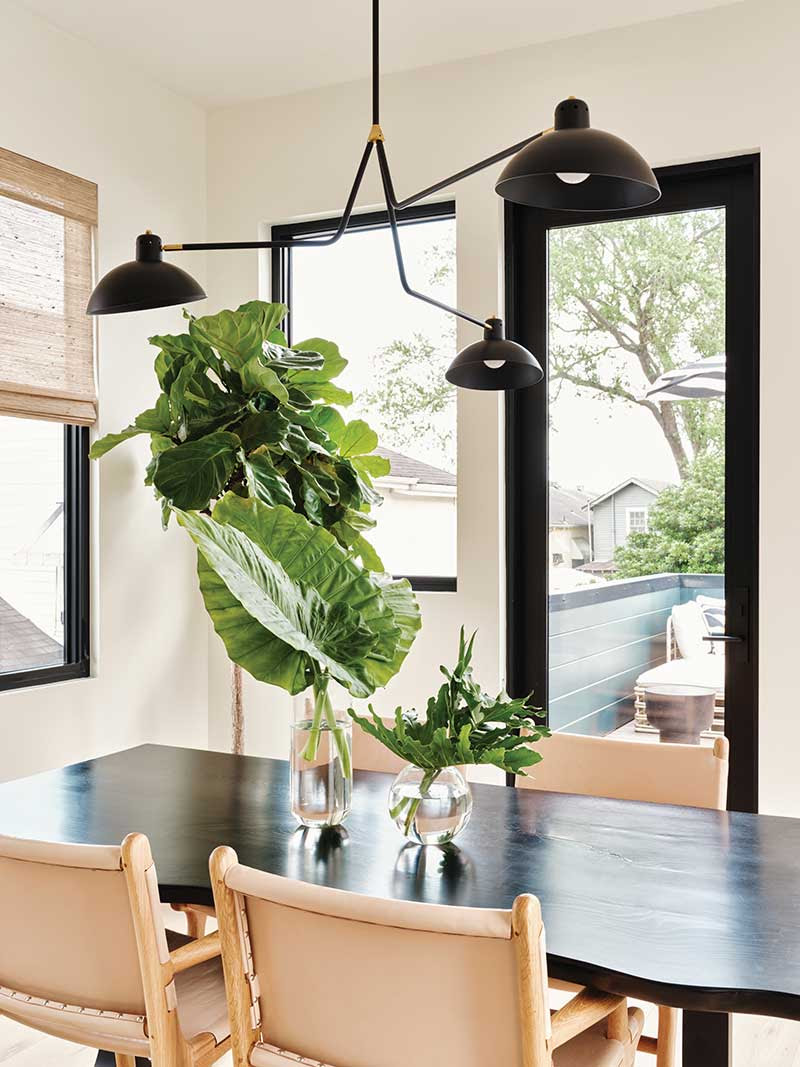 Black Can Be Cool or Warm
While deciding whether to take the leap and commit to this look, color experts suggest first identifying if your home includes warm or cool hues. Although black seems like a simple color, there are undertones to consider, like green, yellow, or purple that will complement those hues.
Sue Wadden, Director of Color Marketing for Sherwin Williams, advises that blacks containing purple undertones can look glossy or cool, like an oil slick. Conversely, by adding yellow to a rich black the resulting effect is a warm bronze-hue.
Additional Design Considerations for Black Windows
Once you have defined the black tone that is best for your interior, the next step can be a small one. Throw pillows, vases and artwork are minor investments that can help introduce black into your space.
Next up could be low-maintenance black matte door or window hardware. Kitchen or bath faucets can also update a space with minimal investment. In fact, matte black hardware ranks as one of the top three finishes for sales in leading Decorative Plumbing & Hardware Association (DPHA) showrooms across the U.S. It is one of the quickest climbing finishes regarding sales volume, according to the DPHA, and may soon overtake oil rubbed bronze in popularity.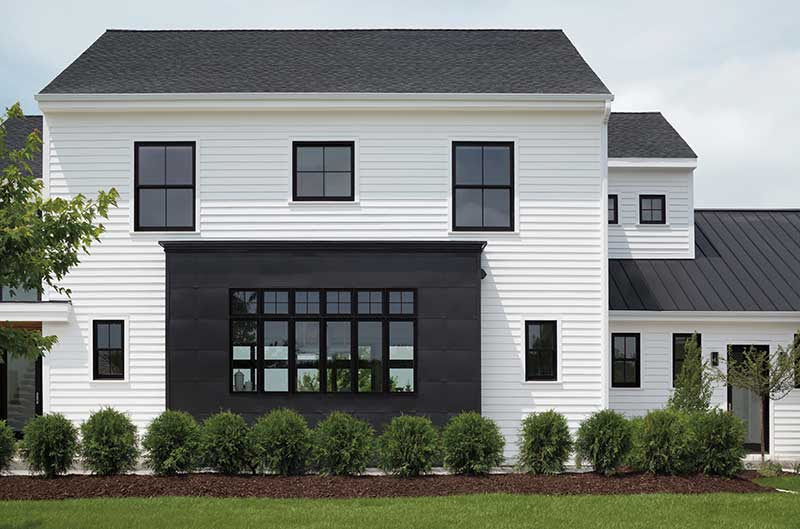 Black Window Exteriors
Looking outward and adding black windows to a home's exterior would most likely give its curb appeal a boost. "I love painted brick and black windows," Wadden said. "People who are tired of Tudor-style brick homes are taking a risk and painting white or really light body colors and then putting in black windows, and it looks awesome. It's almost like a French chateau or plantation-style home from the South. And the key to that look is a dark window."
Inside or out, modern or traditional, the smart styling of black windows is a crisp design option certain to elevate any home. Wadden said it best. "Black is back and it doesn't seem like it's going anywhere."