Photo by 22 Waves Creative for Dwell
See how these five homes take full advantage of indoor/outdoor living.
Almost regardless of geography, the demand for indoor/outdoor living is alive and well. We know its here to stay, but where did this design concept originate? John Patrick Winberry, architect and partner at The UP Studio, says its roots can be traced all the way back to the 16th century.
"An Italian architect named Andrea Palladio seamlessly integrated indoor/outdoor spaces into his architecture," Winberry said. "More recently, the modern movement of the early 20th century reintroduced the idea of grounding architecture back to nature. As new materials and building technologies emerged, architects were able to blur the lines between indoor and outdoor spaces and this idea became very popular."
"…As new materials and building technologies emerged, architects were able to blur the lines between indoor and outdoor spaces and this idea became very popular."
Lucky for us, we see Palladio's theory put into beautiful practice in many homes, including the following five. Take a look to see which one gets you dreaming most.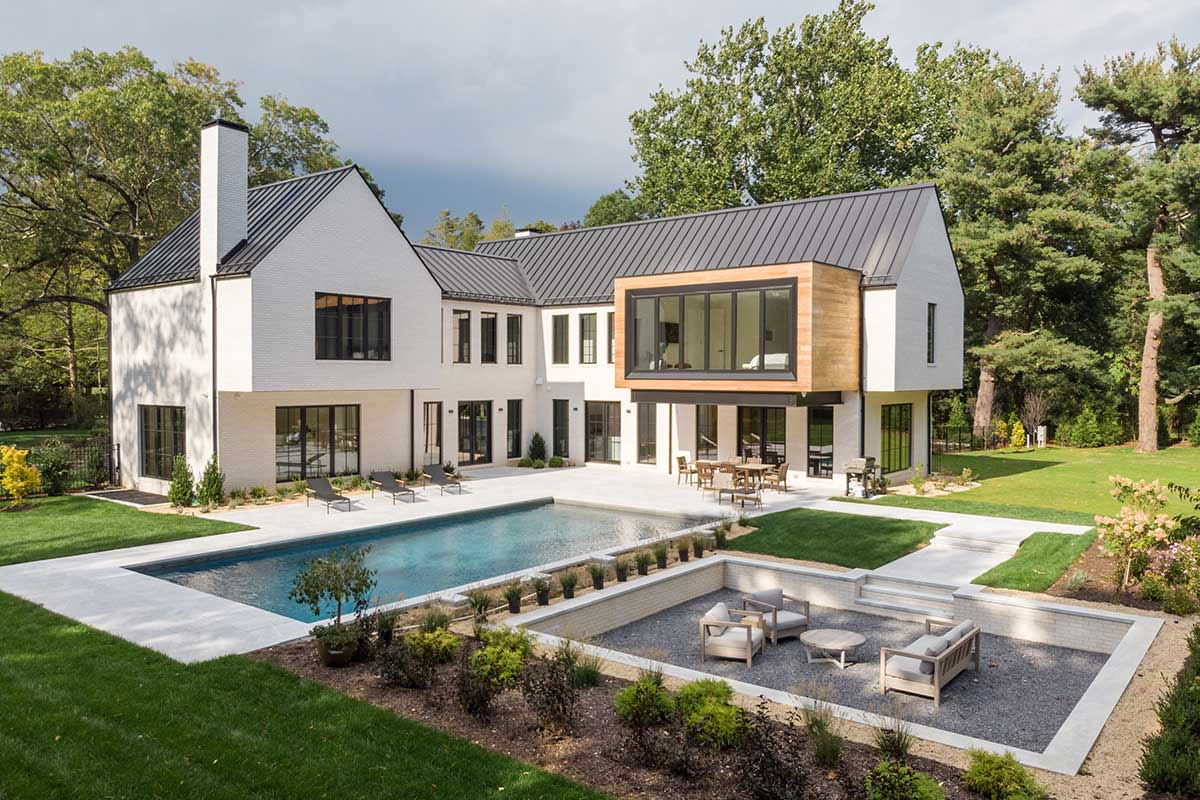 This home is so deeply entrenched with the outdoors that the architects at The UP Studio built the entire home around the sun's path. An L-shaped corner allows the sun to bathe the home with natural light throughout the day and maximize sunlight during the changing seasons.
The home boasts personalized design choices, such as the blending of a traditional front facade with modern style in the back. Natural wood and an open concept with simple fixtures and muted tones complete the look of the interior, but this home is all about the outdoors.
Expansive Marvin Ultimate Casement Narrow Frame windows and Ultimate French doors bring in copious natural light, which is maximized by the creative geometric design.
The interior flows seamlessly outdoors with views of large trees and a large pool, patio, and sunken entertainment area.

The brilliant flashes of light at dusk make this house on the shores of Lake Minnetonka in Minnesota look like a lit jewel box. With a Modern-European style and plenty of large windows, it shines as bright to those looking in as it does to those basking in the natural light inside.
A pristine white stucco exterior contrasts with ebony-clad Marvin Modern Direct Glaze windows that overlook lakefront views surrounding both sides of the house The modern windows allow in plenty of light and invite owners and guests to bounce seamlessly from indoors to outdoors.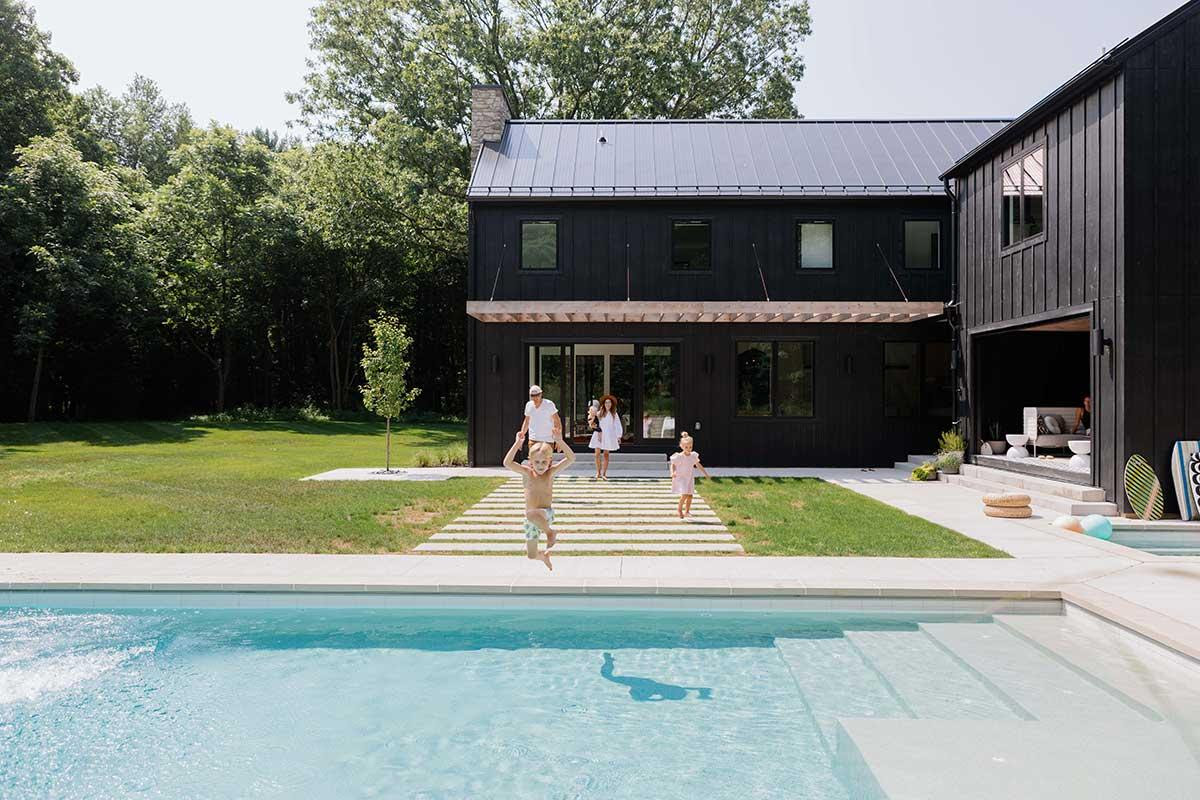 Photo by 22 Waves Creative for Dwell
The balance of indoor-outdoor space was a matter of function as much as beauty for a Michigan family of six in this Danish-style farmhouse. Children frolic freely on the lot of a former farmers' market, and the parents wanted both space to play and open sightlines inside and out.
With the stunning canopy of trees surrounding the property, the home feels like you're outside all the time, with a modern, minimal interior that flows seamlessly. Large picture windows frame the views, including a 150-year-old oak tree, and a Marvin Elevate Sliding Patio door leads directly to a patio and pool. The kids can even get a running start from the living room before leaping into the water.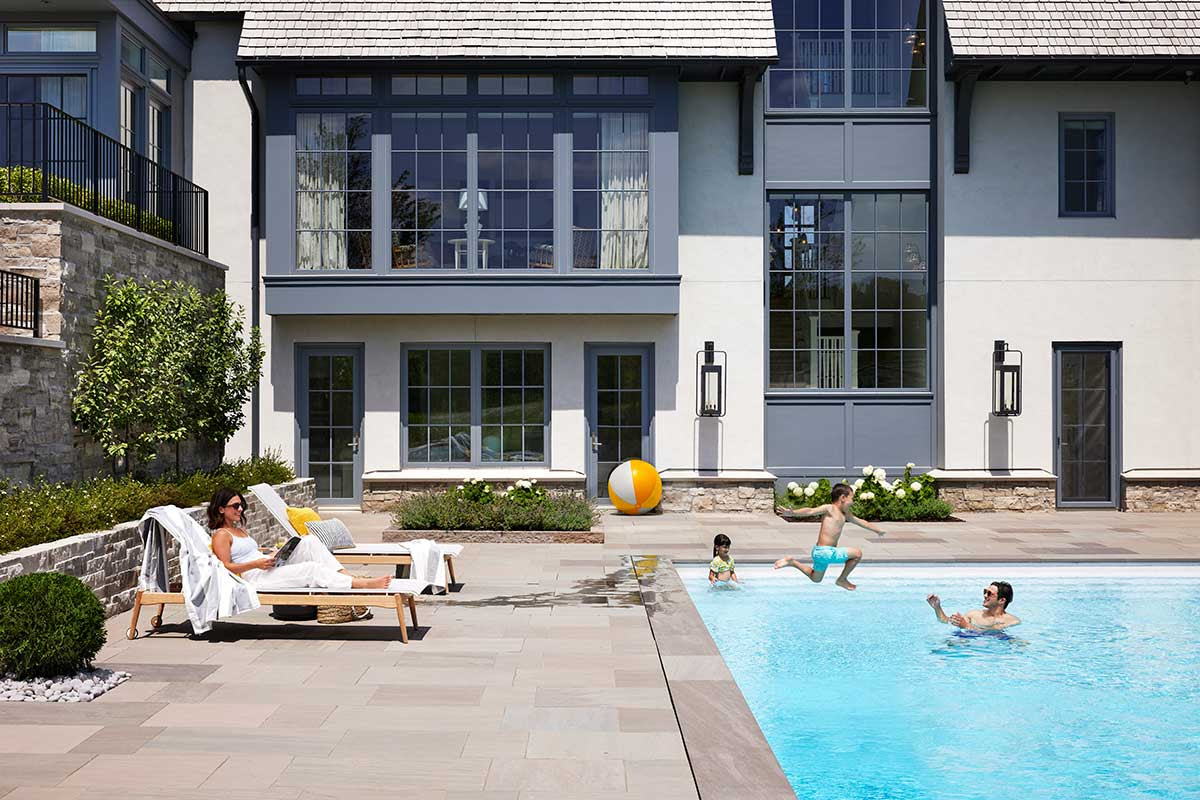 One of the most important design elements of this Scandinavian-inspired Swedish country house was natural light. Sunlight is a fundamental tenet of Nordic design, and one that took center stage in this stunning Minnesota home.
A blend of traditional and modern design gave the home a transitional style, from the stunning slopes of the roof to the unique combination of textures, hues, and neutrals with pops of color. Surrounded by rolling horse pastures, this property feels distinctly Swedish, and expansive windows from the Marvin Ultimate Collection offer views throughout the home.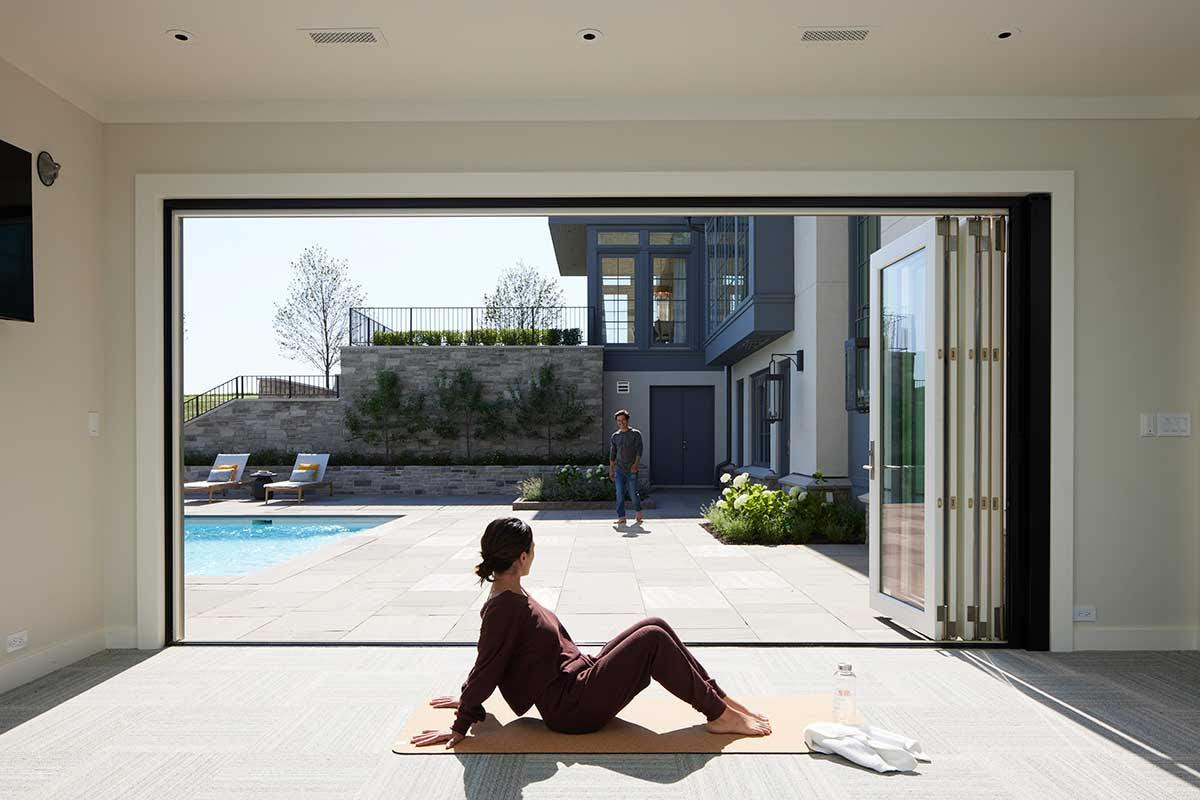 An ultimate sliding patio door allows in additional light, and leads to a beautiful pool and patio area that further helps the family realize their dream of indoor/outdoor living.
Nestled in a charming New England town, this home is built with colonial and country charm. With mountains in the distance and a valley of trees that provide a summer and fall canopy and open winter views, it was only natural to make the outdoors the home's focal point.
A traditional New England design allows the home to fit the surroundings, and the interior features a roomy open concept with neutral colors and light wood tones.
Outside is where the home truly shines. The family valued their outdoor space as much as the inside, and it shows with a walkout basement that leads to a glistening pool with bluestone decking and a full outdoor kitchen. An expansive Elevate Sliding Glass door offers easy access to the outside and allows plenty of light in, and plentiful Marvin Essential windows enhance the stunning views.

If you are interested in learning more about Marvin Windows and Doors, please call (510) 649-4400 or text us at (510) 841-0511 and speak to our Window and Door experts.
Join our mailing list, follow us on social media, check out our events page on our home page of the website to feed your design curiosity, find solutions and stay inspired.
You can also schedule an appointment or come in and view our vast selection of Marvin Windows and Doors.