In 1946 there was no such thing as Home Depot.
America was in the middle of a building boom, so demand was high, yet supplies scarce. George Truitt and Robert White, who had worked together at the Oakland naval supply center during the war, opened a lumber and hardware business on a 1.5-acre site on Second Street. Their first purchase: military surplus fencing and tools bought at an auction in Stockton.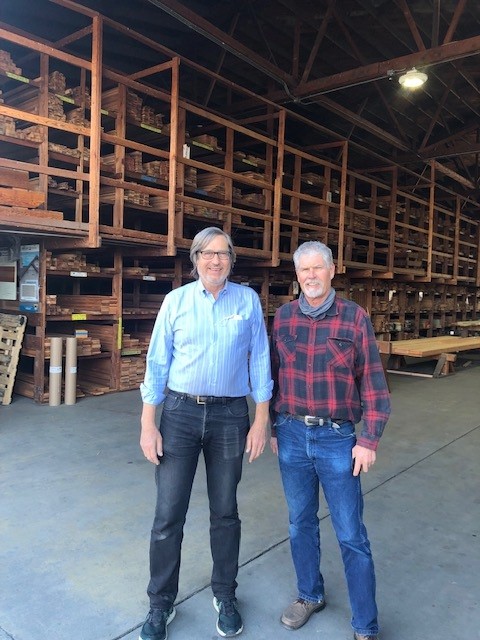 Dan and Warren White in Truitt & White's lumber warehouse. Courtesy: Truitt & White
Such scrappy entrepreneurship helped turn Truitt & White into a third-generation family business on six acres straddling both sides of Hearst Street. The business has expanded to include a window and door showroom.
"Our focus is on remodel contractors for residential construction," says Warren White.
Truitt & White's 9,000-square-foot West Berkeley hardware store is likewise geared to the builders, the bulk of its clientele. The company prides itself on its customer service and automated systems that were in place long before they were standard.
In addition to surviving the advent of big-box retailers, Truitt & White has also beaten the odds of family business survival. According to familybusinesscenter.com, most family firms last 24 years.
The Truitt family sold their interest when George Truitt died in 1977. After co-founder Robert White died in 2002, sons Warren and Dan took over. Both started at the store before they were teenagers.
"We worked on weekends and in the summertime doing everything and anything," Warren White says. Their children have already followed suit, with a fourth-generation pitching in.

Truitt & White Lumber & Hardware, 642 Hearst Ave., Berkeley. Phone: 510-841-0511. Hours: 6 a.m.-5 p.m. Monday-Friday; 7 a.m.-3:30 p.m. Saturday.

Truitt & White Window and Door Showroom, 1831 Second St., Berkeley. Phone: 510-649-4400. Hours: 8 a.m.-5 p.m. Monday-Friday; 8 a.m.-3 p.m. Saturday. Connect on Facebook.