Avoid buyer's remorse. Learning about these design elements and useful door features will allow you to spend the next decades feeling confident about having bought the best doors for your home.
When planning to build a new house, create a large addition, or tackle a major remodeling project, there's no shortage of decisions to make. The bad news: Choosing which type of doors and what door features will work best can generate the same kind of analysis paralysis as deciding on kitchen cabinet hardware or how many degrees of Kelvin your bathroom lights should be. The good news: This article will explain the practical differences between the types of doors available, why certain features might be the best fit, and how choosing the right door will improve the comfort and enhance the beauty in each of your new spaces.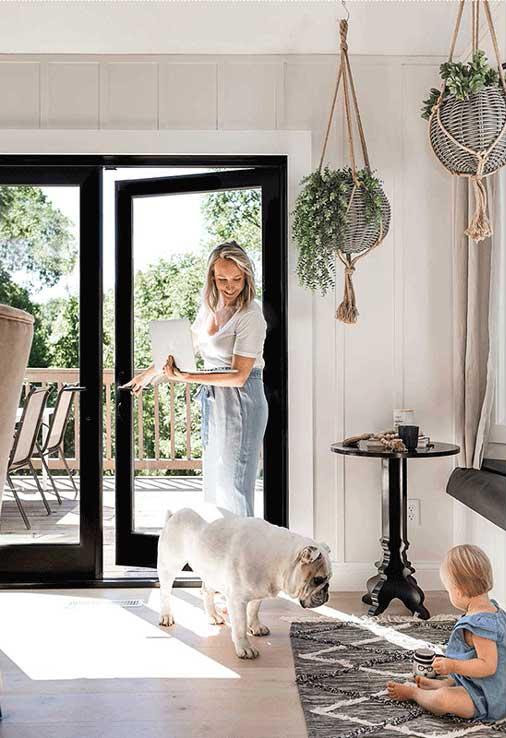 Here are some door features and useful design nuggets that apply to most doors, regardless of type.
Door Size: When possible, the height of door trim should match the height of the trim on nearby windows. Adding a transom window above a door can help line up the topside door trim with those windows that stretch up to the ceiling.
Even when designing a small home, make sure at least one door is large enough to accommodate larger pieces of furniture like desks and couches.
Materials: Extruded aluminum door components provide more strength and resist dents better than door parts made of thinner roll-formed aluminum.
Fiberglass has excellent thermal properties that are well suited for cold climates, and fiberglass will remain stable during extremely hot temperatures unlike some PVC products.
Wood interiors can add natural warmth to any atmosphere and serve as a visual focal point in any room.
Color and Finish: The profile and finish of patio doors should maintain a visual continuity with the windows that surround them.
For doors exposed to salty sea air or long hours of direct sunlight, look for a paint finish that meets the American Architectural Manufacturers Association (AAMA) 2605 performance standard. Marvin Ultrex achieves AAMA 624 verification, giving independent verification that it is best in class among fiberglass products.
Glass: The type of Low E coatings in your door glass depends on the region where your home is located. Some Low E coatings are engineered to retain heat indoors while others are designed to prevent solar heat gain indoors.
Whether you use authentic muntin bars or simulated divided lites, a classic or custom grille pattern can enhance historic accuracy or accentuate the more prominent architectural features on your home.
Security: Doors with multi-point locks provide more security against forced entries.
Integrated lock status sensors improve the reliability and reduce the installation cost of a home's security system.
Impact-rated doors make the most sense for homes threatened by tropical storms and hurricanes. Laminated glass can add to security since it is extremely difficult to get through even when the glass is broken because the PVB interlayer remains intact.
Swinging Door Design Ideas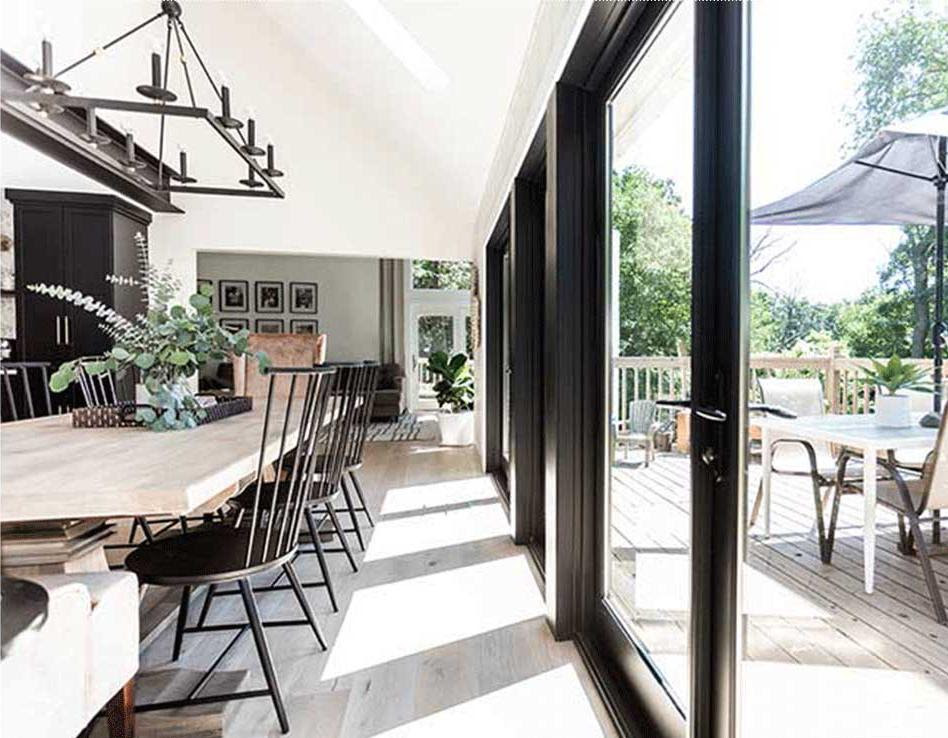 Swinging doors are the meat and potatoes of any new build or remodel project. And when it comes to exterior swinging doors here are some basic questions you need to think about. First, should you choose a left or right swinging door?
You need to think about traffic patterns when deciding which way a door should swing. Take a patio door for example: Imagine walking from your deck or patio into your home. Think about the path that most people will be traveling, probably into the kitchen. You want the door to swing in the direction where you'll be able to walk past the door panel without having to swing it all the way open.
Unlike an interior swinging door, you need to determine if you want your exterior door to swing to the inside or out. Traditionally, most exterior doors are designed to swing in because inswing doors can accommodate storm doors, and they're easier to open after a heavy snowfall. Because inswing doors are more common, they tend to cost a little less. That said, some people prefer outswing doors because they don't occupy any indoor space when opened, and they offer more protection against a forced entry and airborne debris that could be generated by severe storms.
Swinging doors are available in huge sizes and can be combined with transom windows and sidelites to create open, airy, light-filled rooms. Some swinging doors can be combined with additional operating panels. And some products like the Marvin Ultimate swinging door allow you to combine operating panels of different widths for a truly contemporary flavor. To maximize views and natural light, products like Marvin Modern doors are specifically engineered to be joined with Marvin Modern windows to create vast, full-wall window and door assemblies that essentially function as one energy-efficient unit.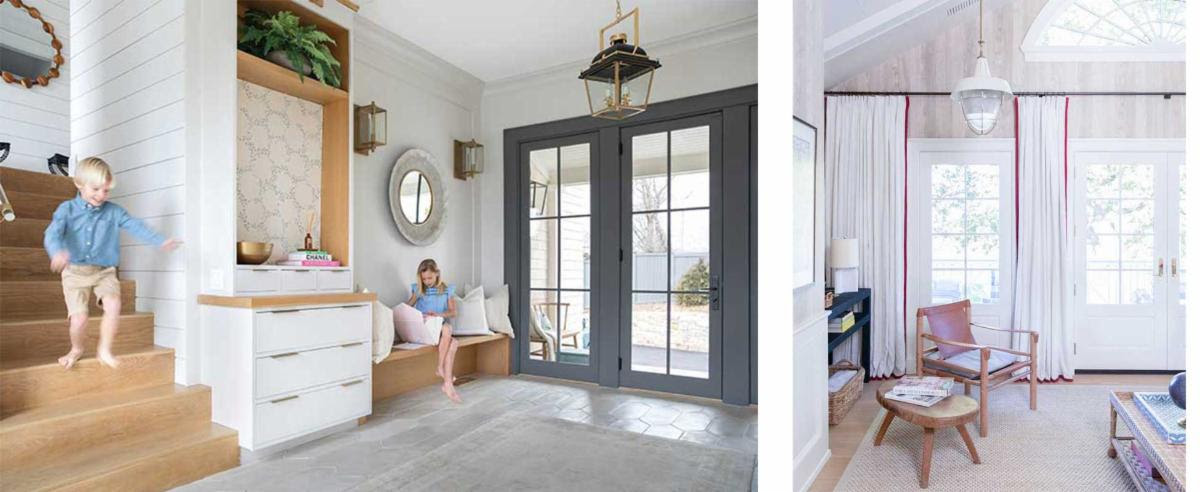 French doors can be recognized by their two-panel configuration but also by their thicker top and bottom rails. Nothing says "classic" like a French door, but your home doesn't need to be a grand French chateau or a cozy French cottage in order to benefit from this historic door. A French door can be appropriate for any number of traditional designs from farmhouse to colonial.
Like any swinging door, you'll need to decide whether your French door panels will swing in to the home or out. But unlike doors with a single- door panel, you will also need to decide which panel swings and how. You can decide to have both panels operate, which gives you the ability to create a large opening for maximum traffic flow and plenty of fresh air. Or to conserve space and improve security, you can choose one panel to remain stationary. If you go this route, a Marvin French door gives you the option to have the hinges of the operating door located on either the jamb or attached to the non-operating door panel in the center.
Any French door is going to make a powerful visual statement on its own, but adding an arch top is an impactful way to ramp up the wow factor. And while divided lite options are available for most any glass door, choosing a traditional, or totally custom grille design can fine tune your French door, so it perfectly complements your unique design vision.
Sliding Door Design Ideas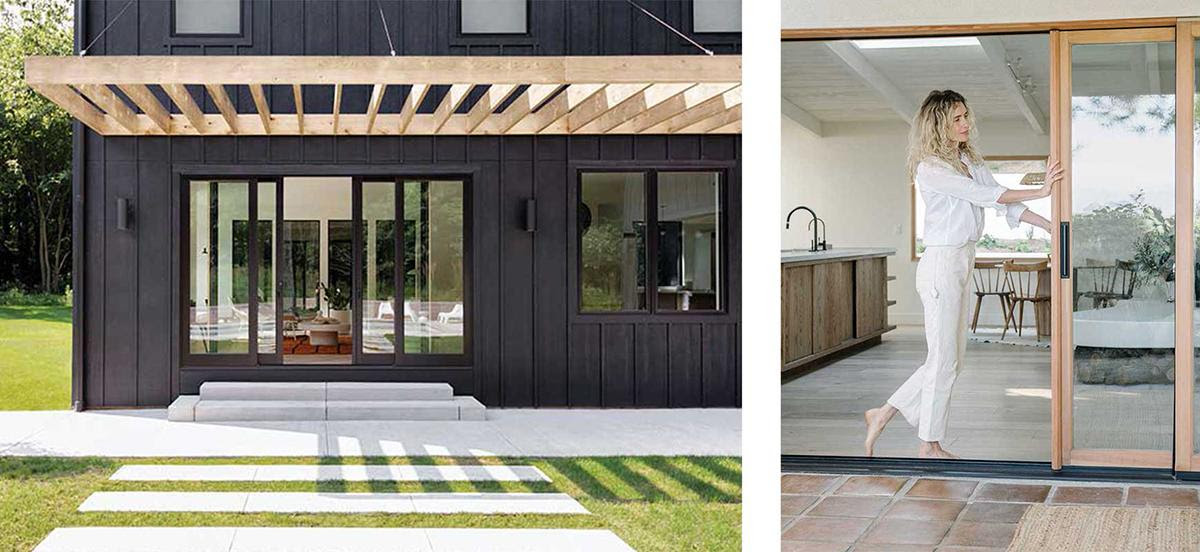 Photo courtesy 22 Waves Creative
A sliding door can serve as a practical space-saving solution. Because sliders operate in plane with the wall, only the space in front of the operating panel needs to be kept clear of furniture. Whereas a swinging door requires space for the panel to rest when the door is fully open. Most sliding door panels consist of a large pane of glass surrounded by a frame. This makes them a great option if you want to get the most out of amazing views and fill rooms with natural light. And sliding doors are no longer confined to the public living areas of a home. More designers and homeowners are taking advantage of the benefits of sliding doors in other rooms in the house, such as bedrooms and home offices.
Wind can be an issue that not enough people think about when choosing a door. If your home is located near the ocean, in an expansive prairie, or in any region prone to high winds, an exterior swinging door, opened by an elderly person or small child, could catch the wind and potentially cause them to lose their balance and fall. This would not happen with a sliding door.
Sliding doors didn't start to become popular until the 1960s. Compared to swinging doors, that makes them a relative newcomer to the housing scene. Because of this, some people consider sliding doors more appropriate for modern or contemporary designs. But products like Marvin Sliding French doors allow you to take advantage of the practical functionality of a sliding door while also presenting a more time-honored appearance. If modern is your thing, then you can fully embrace it by choosing a sliding door like a Marvin Essential patio door, which boasts narrow stiles and rails and inconspicuous hardware, giving it a sleek, minimalist appearance.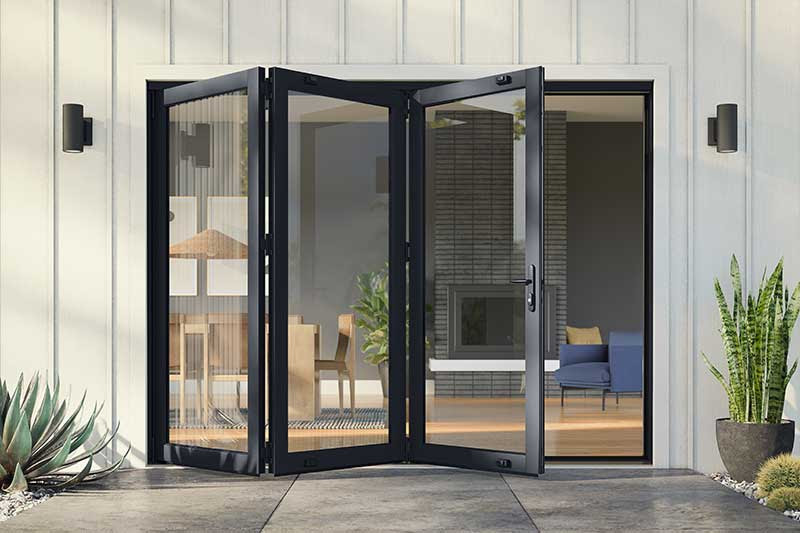 The two basic types of scenic doors are bi-fold and multi-slide. Both doors can leverage stunning views and create enormous openings that can transform an indoor room into an outdoor oasis. Neither a bi-fold nor multi-slide is inherently better, but there are differences. For example, as a bi-fold door is pushed open, each door panel folds flat up against the next panel, and when fully opened they all stack up against the edge of the opening perpendicular to the wall. When a multi-slide door is opened, the panels stack up next to each other in line with the opening, so if there is no pocket to hide the multi-slide panels (more on this below), there will always be one full panel positioned in the opening. There will be multi-slide panels sitting on both sides of the opening if the door opens both ways. So, if your scenic door is going to be open more times than not, a bi-fold door might be the one for you.
Depending on the product you select, Bi-fold door panels can either stack up on the outside or inside of the home. The natural flow of traffic in those areas will dictate which side is best. Besides the obvious features like size, color, and materials, there are several other ways to customize your bi-fold door. First, you will need to pick a configuration, meaning how many door panels there will be and which way they will move. They could open up to the right side, the left side, or they can be split so some open left and others open right. Marvin Ultimate bi-fold doors provide up to 90 configurations to choose from and Elevate Bi-Fold doors offer up to 28 configurations.
You also have door sill options that range from flush, to low-profile, to higher but more energy efficient. And finally, you will need to decide where the "traffic" door will be located. Most high-quality bi-fold door manufacturers offer a traffic door, which can be used like a standard swinging door on those days when the weather isn't nice enough to open all the panels or if you just need to let the dog out.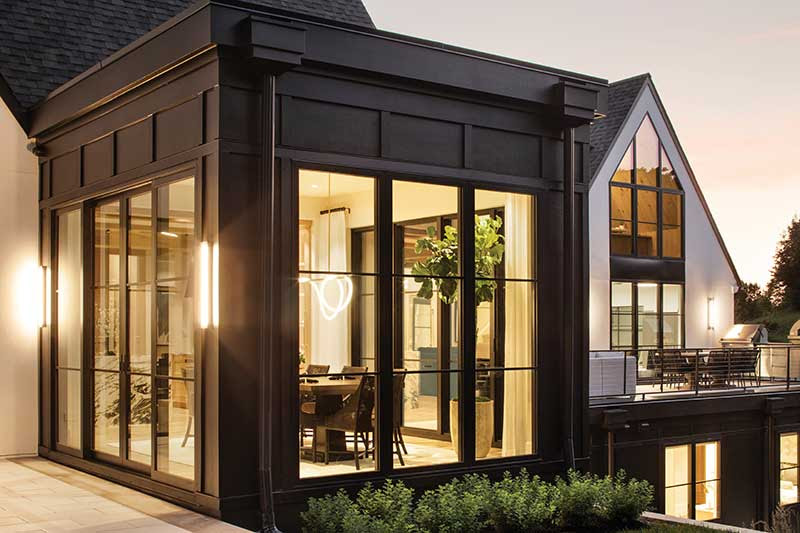 Like bi-fold doors, scenic multi-slide doors are available in massive sizes and any number of configurations, but there are a couple features that distinguish multi-slide doors from bi-folds. The biggest difference of course, is the way they open—each door panel slides alongside the one next to it as they get pushed up to the edge of the opening. One of the main advantages of multi-slide doors is that when closed, each panel stile (the vertical part of the frame) is stacked in front or behind the stile of the door next to it instead of side-by-side as is the case with bi-fold doors. So, if you want to see as much of the outdoors as possible when the door is closed, then a multi-slide door might be the best choice for your home.
If your wall is long enough and you want the door panels to hide when they are open, you can have pockets built into the walls to conceal the panels, which gives the illusion that the door opening is a natural and permanent portal uniting indoor and outdoor spaces. Another benefit to multi-slides is that you can opt for an automatic open and closing system. Watching these larger-than-life panels slide along on their own accord is an impressive sight and a hard feature not to show off.
Lift and Slide Door Design Ideas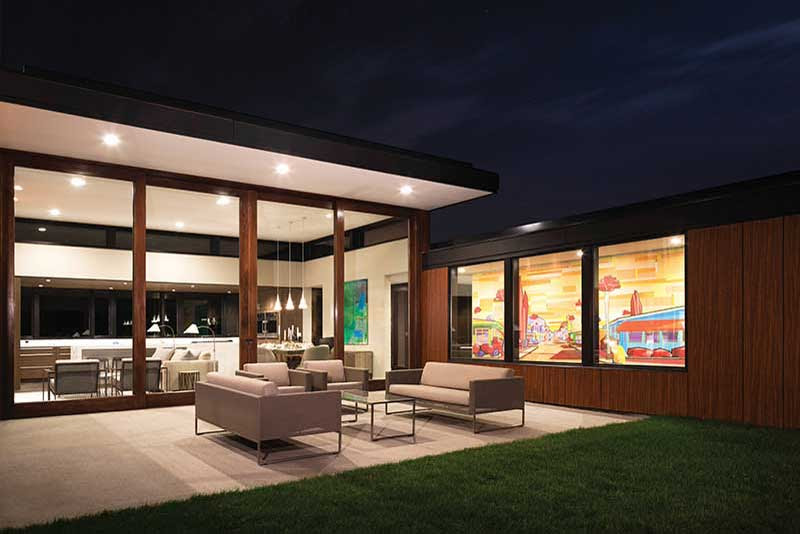 Maybe the most distinguished of all the scenic doors is the lift and slide, which operates similarly to a multi-slide. The primary difference is that, as the name implies, lift and slide door panels lift up off the sill before they are slid open or closed. This lifting action makes lift and slide doors easier to operate and more energy-efficient and here's why: On a standard multi-slide door, the panels need to be in contact with the sill at all times or wind and water would blow right underneath them. This contact creates just a bit of friction, which gives the panels some resistance when opening and closing them. When you want to open or close a lift and slide door, a lever lifts the door panels up off the sill so even the largest panels can be pushed open or closed with very little effort. And when the doors are closed and the lever is pulled to lower the door, the entire weight of the panels is resting on the sill, which creates a super-tight, weather-resistant seal. Because of the relative ease in which the Marvin Lift and Slide panels can be moved, they can be configured to fill colossal openings up to 12 feet tall and 56 feet wide.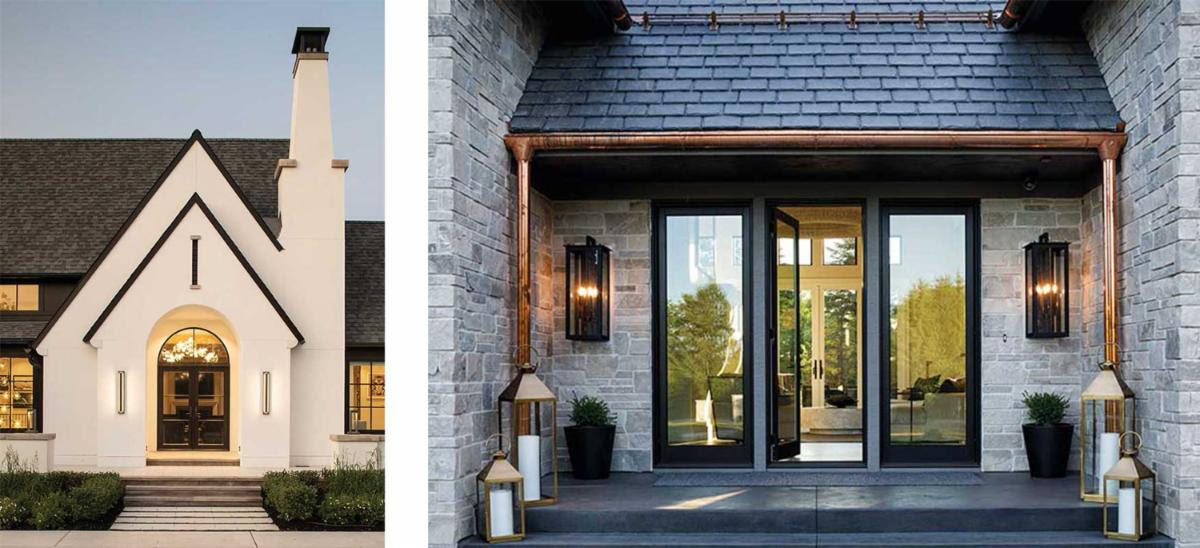 Our front entry door is the one opening into your home where choosing a different color or material, distinct from the windows and other doors, is not only acceptable but often desirable. Your entry door is the perfect tool to boost your home's curb appeal and presents an opportunity to flex your creative design muscles. If you add a transom or sidelites into the mix, there are literally thousands of decisions you can make, but it is wise to stay within your design lane. A large, all-glass door with all-glass transom and sidelites might be the perfect solution for a mid-century modern home but would likely look out of place on a traditional craftsman-style home.
Steel, fiberglass, and wood are the most common materials entry doors are made of. Metal is usually the least expensive of the three. Fiberglass is a stable and energy-efficient material, but many people prefer the unmistakable beauty of natural wood grains. If natural wood best meets your design parameters, consider a door with an engineered core and a natural wood veneer. Solid wood doors are beautiful but can be prone to warping and don't offer the stability and efficiency that engineered products deliver. Regardless of what material you choose, it's always a good idea to protect your entry door with a porch or overhang of some kind. In fact, your door warranty may depend on it.
Why Marvin Doors?
It's helpful to think about buying a door the same way as you would buy a piece of heirloom furniture. Yes, you want it to function at a high level, but you also want it to last, enhance your design, and improve how you feel inside your home. In addition to creating some of the most energy efficient, long-lasting windows and doors in the industry, Marvin has spent nearly 100 years perfecting the blend between beautiful design elements with thoughtful, people-first features. Ask your architect, builder, or designer to learn about their experience working with Marvin.

If you are interested in learning more about Marvin Windows and Doors, please call (510) 649-4400 or text us at (510) 841-0511 and speak to our Window and Door experts.
Join our mailing list, follow us on social media, check out our events page on our home page of the website to feed your design curiosity, find solutions and stay inspired.
You can also schedule an appointment or come in and view our vast selection of Marvin Window and Doors.